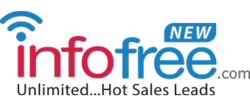 San Mateo, CA (PRWEB) May 07, 2013
infofree.com, the Home of Unlimited Sales Leads and Mailing Lists for small businesses and salespeople, has just announced that in celebration of its second year of business, it is offering a 50% discount off its yearly subscription. Small businesses can now search over 250 million business and consumer sales leads for only $24.95 per month*.
infofree.com has revolutionized the database marketing industry by providing completely unlimited access to over 15 million business and 220 million consumer sales leads for one low price. Now, in celebration of its second year of service and milestone of over 100,000 users, infofree.com is offering half off its yearly subscription price in an effort to help small businesses discover how to increase their sales and grow their businesses.
The annual subscription from infofree.com includes:

Unlimited search, select, and view of sales leads
Unlimited mapping through Google Maps
Print or download of sales leads and mailing lists
Print or download of email marketing lists
Over 200 databases to create the most targeted list
Free email marketing through JangoMail.com
"Over 100,000 salespeople have already discovered the best sales productivity tool available on the market today. Now, you can take the first step towards growing your business for more than half off the regular monthly price," says Vin Gupta, Founder of infofree.com.
*Yearly subscription is now offered at 50% discount for only $299 per year, which is only $24.95 per month. No full or prorated refunds available with the annual subscription.
To try infofree, visit http://www.infofree.com or call 877-448-0101 for more information.
About: infofree.com™ is revolutionizing the sales lead and mailing list industry by providing unlimited search, view, and download of over 12 million business records, 200 million consumers, and hundreds of other specialty databases for a low, flat price. The infofree.com content is compatible with the following platforms: Oracle CRM, Salesforce CRM, Microsoft CRM, Nutshell CRM, Goldmine CRM, Sage ACT! CRM, Highrise CRM, Zoho CRM, NetSuite CRM, SAP CRM, Constant Contact, RightNow Technologies, Responsys, Vertical Response, and Dun & Bradstreet.