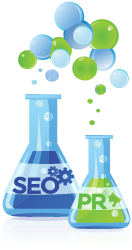 There will be a major change from Google coming soon that will put more of a focus on how people are perceived online.
Charlottesville, VA (PRWEB) May 07, 2013
Although public relations (PR) and search engine optimization (SEO) are two separate fields, they both have a common goal: increasing exposure. In sharing that goal, inevitably over time the two practices have begun to converge in many ways, each relying on the other to bolster results. To understand how marketers and communications professionals can work together for the greater good of the business, Janet Driscoll Miller, President and CEO of search engine marketing agency Search Mojo and Elizabeth Shea, President and CEO of SpeakerBox Communications, will discuss the ways both PR and SEO can work together to form an integrated marketing strategy in the upcoming webinar, "The Convergence of PR and SEO: Harnessing the Power of Content, Social and Search." The webinar will be held May 9, 2013 at 2 p.m. ET.
Shea will explain how PR has evolved from press clippings, and the opportunities that exist for identifying and building relationships with reporters and online influencers. Miller will discuss the three important components of SEO, ways to target PR and content marketing efforts for maximum SEO benefit, and how Google authorship will play a major role in in how content authors build online credibility.
"The way you decide who you want to reach out to for increasing PR exposure may differ greatly between your online and offline efforts," said Miller. "There will be a major change from Google coming soon that will put more of a focus on how people are perceived online."
"Public relations has evolved so much over the years, but the premise is still the same when you think about the third-party validation it gives you, and Google recognizes this to," said Shea. "We will talk about how to be strategic in your PR efforts to ensure you take advantage of the SEO value it provides, as well as how to make sure you don't lose sight of making sure you reach your audience."
To register for the marketing and communications webinar, go to http://www.search-mojo.com/PR-SEO.
About Search Mojo
Recently ranked on the prestigious Inc. 5000 list as one of the fastest growing businesses in America, Search Mojo specializes in search engine marketing, social media advertising, content marketing and analytics services. Founded in 2005, Search Mojo uses the latest information and techniques to help companies improve their conversions and lead generation through search and social tactics. Learn more about Search Mojo at search-mojo.com or read our blog, Search Marketing Sage, at blog.search-mojo.com.
About SpeakerBox PR Communications, LLC
SpeakerBox is the high-tech sector's dedicated public relations firm, built specifically to meet the rigors of tech-based business communications: crystallizing complex ideas, targeting sophisticated buyers, and moving at the speed of technology. Since 1997, we've given voice to the industry's top thinkers and performers; influenced hundreds of successful product launches, acquisitions, valuations, and IPOs; and helped raise nearly a billion dollars of institutional investment. For more information, visit http://www.speakerboxpr.com.