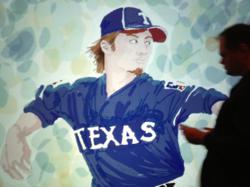 "We are excited to work with charities to bring this fundraising concept to life"
Dallas, Texas (PRWEB) May 07, 2013
In the past, Air Graffiti Dallas faced challenges with expenses in trying to support charities.
Today, the company is making this a focus by completely embracing the opportunity of supporting the different charities through an innovative and unique way. By inventing a new process Air Graffiti Dallas will cover their expenses without the need to burden the charities and at the same time, they can donate additional proceeds to their sponsored charity and provide very cool event entertainment
During live fundraising events, Air Graffiti Dallas will have an artist work prior to and during the said event on their virtual canvas measuring 8' X 10' in order to come up with a unique artwork which is going to be put in an auction during the live event.
Their artist will work 2 hours before the start of the event, finishing their work 2 hours into the said event in order for the guests to be given a chance to see the art as it is being created live on the 8' X 10' screen.
The moment the work of art has been finished, the HD digitil file will be printed in various sizes on different types of media including a 30 x 40 canvas of that will be mounted on a wooden frame. Once finished, the artwork will then be brought to the event to be signed by its artist and celebrity guest that might be present during the event.
Together with video of the art being created, the finished product will be auctioned off at the event, and its proceeds less expenses will directly go to the charity.
Air Graffiti Dallas is a company that embraces charities through these fundraising events where their technology can also be used as a photo booth to entertain guests. "The ability to add enrichment to the arts, event fun, and help the charities is an incredible opportunity." said Dennis Walthers, Founder of Air Graffiti Dallas.
For additional information about the charity fundrasing service offered by Air Graffiti Dallas, visit the Air Graffiti Dallas website (http://www.AirGraffitiDallas.com) and use the Contact Us tab. For more information about Air Graffiti Dallas via phone, call 214-293-5044.