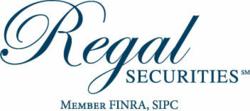 As a corporate citizen we are proud to offer our support to our advisors making a positive impact in their communities.
Glenview, Illinois (PRWEB) May 14, 2013
Regal Securities, Inc. is pleased to announce with the cooperation of their clearing firm RBC Correspondent Services (RBC), the Diversity and Inclusion Program, which supports affiliated advisors and advisor community involvement. Through this program, Regal Securities and RBC will contribute and support community initiatives in advisor selected neighborhoods and surrounding areas. "The Diversity and Inclusion Program focuses on improving the lives of individuals and families by appreciating the contributions a diverse group can have regardless of their differences. As a corporate citizen we are proud to offer our support to our advisors making a positive impact in their communities," said Robert Villaflor, President of Regal Securities as well as Regal Advisory Services, an affiliated RIA firm.
To qualify for consideration, advisors can actively support a charitable organization, educational institution as well as offer financial literacy seminars within their communities. Activities can include fund raising, educational and at -risk youth programs, corporate sponsorships, minority and multi-cultural awareness and inclusion.
Sharon Shapiro, Vice President of Regal Securities will be coordinating the program and all applications and questions can be directed to her attention. If you are interested in participating, mentoring or sharing your unique skills, Regal advisors should contact sshapiro(at)reaglasecurities(dot)com or call 847-375-6084.
About Regal Securities, Inc.
Regal Securities, Inc., member FINRA/SIPC, was established in 1977 as an independent brokerage firm known for select service and flexibility and caters to financial professionals looking for access to best-in-class resources to grow their business independently. Regal provides full service custody functions, in-house customer service and compliance, technical and marketing support for Registered Representatives, Broker-Dealers, Investment Adviser Representatives as well as Registered Investment Adviser firms. Regal's ability to handle diverse lines of business along with a culture of partnership, collaboration and professionalism combine to achieve the mutual goal of success for the company and its representatives.
For more information, please visit regalsecurities.com.
About RBC Correspondent Services
RBC Correspondent Services provides clearing, custody and execution services for independent broker-dealers and other financial professionals. A leader in the U.S. brokerage industry since 1909 and a custody and clearing leader since 1979, RBC Correspondent Services specializes in delivering personalized, high-touch service to help investment professionals manage their clients' needs. RBC Correspondent Services is a division of RBC Capital Markets LLC, member NYSE/FINRA/SIPC, a wholly owned subsidiary of Royal Bank of Canada (RBC), one of the world's largest and strongest banks with a reputation for providing sophisticated solutions for high net worth clients.
For more information, please visit http://www.rbccorrespondentservices.com.
Securities offered through Regal Securities, Inc., Member FINRA / SIPC, a registered broker dealer. RBC Correspondent Services is not affiliated with Regal Securities.