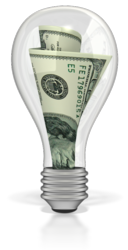 The six States with ten or more providers offering electricity to households can claim to have built a competitive retail electricity marketplace
Annapolis, MD (PRWEB) May 08, 2013
Residential consumers can choose their electric supplier in more than a dozen States. ClearlyEnergy, leading provider of search solutions to simplify energy decisions, has compiled residential electric retail price indices across twenty States and regions. These indices will be updated on a monthly basis. They represent the electricity supply cost, typically over half of a household's total electric bill, and do not include other fees such as transmission and distribution related costs and taxes. These electricity supply fees do, however, represent the only portion of their bill where consumers have a choice of supplier.
New York City, New Jersey and the Houston – South Texas areas have the highest competitive rates in the country at 10.6-10.9c/kwh. This translates into a cost of electricity of $1100/year for an average household. At the other end of the spectrum and 40% cheaper are Ohio, Illinois, Western Maryland and Western Pennsylvania with rates between 5.4 and 6.9c/kwh. "The cost difference between receiving electricity in New York City or Houston on the high end and Ohio or Illinois on the low end is about $500 per year for an average household," comments Norma Jean Autry, co-founder of ClearlyEnergy. New England, Mid-Atlantic States with retail competition (CT, ME, NH, CT, MD, DE) and upstate New York all have rates in the 7 to 9c/kwh range.
Many States have highly competitive markets, measured by the number of one-year offers for standard power. New York City's ConEd tops the list with 23 offers followed by Illinois' ComEd with 21. Customers who have retail choice options in Texas can choose between a minimum of 20 different providers, with many more options for renewable power and signup incentives. In Maryland's BGE and Pennsylvania's PPL and PECO utility areas, 15-17 providers are seeking households to switch to their service. "States with fifteen or more retail providers offering service can claim that they have built a competitive marketplace," adds Véronique Bugnion, co-founder of ClearlyEnergy. The least competitive markets tend to be the smaller States, Delaware, DC, Maine, New Hampshire and the smaller utilities within large States.
The premium paid by consumers for green power – electricity produced from renewable sources - varies widely across the country and in no particular relation to the underlying electricity price. It is typically 0.5-0.7 c/kwh, which represents an additional annual expenditure of $50-$70 per year for an average household. States that have the highest green premium often have a high proportion of retail offers with locally sourced wind power and certified renewable attributes, as opposed to cheaper alternatives.