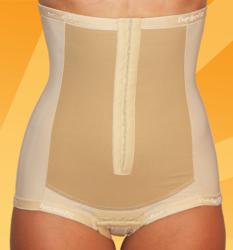 "has been an extreme benefit to helping moms bring the abdominal muscles back together and make them feel so much better about their bodies coming back to pre-pregnancy size after birth."
Weston, FL (PRWEB) May 21, 2013
Bellefit® corsets help postpartum women rapidly return to their pre-pregnancy shape. Using compression to support postpartum recovery is a time-honored practice among women around the world. Bellefit® makes this age-old practice modern and fresh by developing medical quality girdles and corsets to provide compression, comfort and support where a new mom needs it most. Many women who have used a Bellefit® girdle wish they had known about the product for their earlier pregnancies. One such mother reports, "I wish I'd had a garment like this after each of my pregnancies! I am grateful to have benefited from the healing graces of compression to restore my midsection to its proper shape."
How Does A Bellefit® Corset Work?
Simply put: compression. A Bellefit® girdle uses medical-grade compression to speed healing and shorten recovery time. By compressing the abdomen, a girdle gently pushes the stomach muscles together. This forces a woman to engage her abdominals, retraining them to support her torso and improve her posture. Mothers who have caesarean births find that a compression garment can stabilize stitches and promote healing. Compression also helps reduce swelling and water retention in the abdominal area by gently pushing water out of tissues. Abdominal compression using a Bellefit® garment also helps a new mother's internal organs return to their proper positions after birth. Bellefit® girdles are made of hypoallergenic fabric to prevent skin rashes, and its micro-porous design allows the skin to breathe, therefore keeping women fresh, dry, and comfortable.
Bellefit® Can Help All Women
Wearing a Bellefit® corset right after birth will help to prevent lower back pain and improve mobility for all women. Women who have had a caesarean birth or abdominoplasty will benefit from the compression and stability a Bellefit® garment offers. Women suffering from diastasis recti, a separation of the abdominal muscles will experience increased comfort and stability when wearing a Bellefit® girdle. Bellefit® also offers products to support women during pregnancy, to help with conditions such as placenta previa and cerclage.
Bellefit® Inc. is a therapeutic postpartum and prenatal products company founded in 2008 in Weston, Florida, USA. Bellefit® offers postpartum compression garments for women recovering from caesarean section and natural childbirth. Bellefit® is the leading medical brand in postpartum girdles and corsets and helps women achieve their pre-pregnancy shape and lose the post-pregnancy tummy quickly.
Bellefit® Product Lineup:

Dual-Closure (also known as Double Corset): adjustable front front hook-and-eye closures and side zipper closure
Corset: adjustable front hook and eye closures
Girdle With Side Zipper: side zipper closure
Pull-Up Girdle: no closures
Bellefit® products are available on http://www.bellefit.com, Amazon.com and Amazon.co.uk.
Watch testimonials at the Bellefit® YouTube Channel: http://www.youtube.com/bellefitpregnancy. For help with sizing call Bellefit's Customer Service toll-free at 888-894-2951 or locally at 954-727-1899.