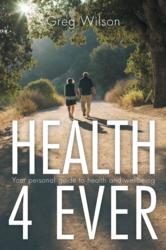 A concise A-Z reference guide filled with tips and tricks for helping keep mind, body and spirit in top form.
Ballarat, Australia (PRWEB) May 07, 2013
With so many voices spewing conflicting advice about health and wellness, it is often overwhelming to determine which information is valuable and which is worthless.
"Health 4 Ever: Your personal guide to health and wellbeing" (published by Balboa Press) is a one-stop destination to discover the secrets of everlasting health and fitness. Australian health expert Greg Wilson has crafted a concise A-Z reference guide filled with tips and tricks for helping keep mind, body and spirit in top form.
"I wrote this book to help us all with the understanding of how our health can be influenced by lifestyle factors," Wilson says. "We are not given the correct information that can benefit our health."
As a health counselor with more than three decades of experience researching the fundamentals of health and fitness from an alternative, natural emphasis, Wilson has condensed this helpful information in two sections.
The first section offers practical advice on the wellbeing of the mind, while the second provides a thorough A-Z health reference revealing interesting tidbits such as if the white area of the eye is blue, osteoporosis may be a factor, or, a chocolate craving can indicate a magnesium deficiency.
Wilson's ultimate goal is to inform and empower people to live consciously and mindfully. The benefits can even go beyond the personal and positively affect relationships.
"Good health goes hand-in-hand with personal happiness – they are intrinsically linked," Wilson says. "Working on some key matters of health can help your future life and relationships. It is not rocket science."
About the Book
"Health 4 Ever"
By Greg Wilson
ISBN: 978-1-45250-876-4
Softcover: $13.99
E-Book: $3.99
About the Author
Greg Wilson has qualifications in Oriental medicine, double diplomas in counseling, and specialized in health counseling through the Medical Register of Australia. He currently resides in Victoria, Australia, with his wife, Jacinta, and their two children.