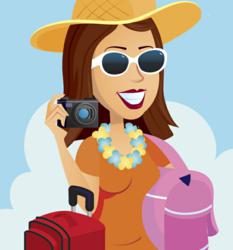 Natick, MA (PRWEB) May 09, 2013
With the busy summer family travel season right around the corner, Family Travel Magazine, a family travel blog that offers family travel reviews and tips, has announced four things to do before going on vacation. While most families know that they should confirm their reservations, check-in to their flights, and pack their bags, there are a few other things they should do.
Here are a few of the tips:
Check those dates
Travelers are advised to check the expiration dates on their drivers' license, passport, credit cards, and any other travel documents. While it may be possible to get on a flight with an expired ID, it's not possible to rent a car. Keep in mind that in many states, registries do not let you know in advance when your license is about to expire.
Pay bills
Before traveling, travelers should pay all bills by their due date. Where possible, it's also recommended that travelers pay bills that are due several days after their return date.
Make Some Advance Calls
Travelers should with their cell phone provider and bank to see if what texting, data, phone call, and ATM fees will be at their destination.
Mail and Newspapers
Travelers should arrange to have a neighbor or house sitter pick up mail and newspapers while they are away. If that's not possible, they can have their mail and newspapers put on hold.
To read more family travel reviews and tips, visit Family Travel Magazine.
Family travel expert Jodi Grundig is available to talk about these tips, or any other family travel topics.
About Family Travel Magazine: Passionate about promoting family vacations that help a family bond, Family Travel Magazine ( http://www.familytravelmagazine.com) helps families decide where to go on vacation with kids. They also review hotels, destinations and attractions and reveal special deals and promotions at hotels across the U.S, the Caribbean, and Europe. Because mom and dad sometimes need to get away alone, the magazine also features destinations for parents only. Jodi Grundig, mom of two with an MBA and ten years experience in corporate finance, is a sought-after brand ambassador, travel writer, mom blogger (since 2007) and brand consultant. An avid traveler and travel blogger, Jodi has written about some of the best family hotspots, including Hawaii, Arizona, Virginia, Florida, and the Cayman Islands. Jodi has served three years on the popular Walt Disney World Moms Panel.