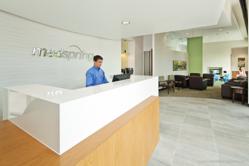 Austin, TX (PRWEB) May 07, 2013
Many baby boomers' bodies may be harboring a silent killer: Hepatitis C. In fact, the federal Centers for Disease Control (CDC) recommends testing for anyone born between 1945 and 1965 as early diagnosis and treatment can help prevent liver damage, cirrhosis, liver cancer and other complications.
In recognition of Hepatitis Awareness month, MedSpring is offering baby boomers, those born between 1945-1965, free Hepatitis C screenings at any of its 14 centers in Austin, Chicago and Houston during the month of May. In addition, those born after 1965 with tattoos and body piercings are also eligible for free screenings.
The Hepatitis C virus is a contagious, blood-borne infection affecting the liver. Baby boomers may have contracted the disease numerous ways, including through a simple blood transfusion, injection drug use or an organ transplant performed prior to 1992. While baby boomers comprise only 27 percent of the U.S. population, the CDC estimates they account for 75 percent of the Hepatitis C cases and 73 percent of deaths related to the virus.
"This simple, one-time blood test can mean the difference between life-saving treatment and serious, even deadly, liver disease," said Dr. Jon L. Belsher, M.D., MedSpring's Chief Medical Officer. "The Hepatitis C virus is dangerous, especially to baby boomers, as it can go unnoticed for years with most people experiencing no symptoms."
MedSpring centers will administer the complimentary blood test to the first 1000 eligible patients during regular center hours of 9am-9pm daily. For those patients requiring follow-up, MedSpring will provide complimentary consultation and referrals. Walk-ins are welcome, and appointments are also available. For more information, visit the Hepatitis C information page on MedSpring's website.
MedSpring Urgent Care has six centers in Austin, three in Chicago and five in Houston.
About MedSpring Urgent Care
Based in Austin, Texas, MedSpring's 14 Urgent Care centers focus on delivering quality care and exceptional service. For more information, including patient reviews and savings compared to an ER, please visit http://www.medspring.com or find us on Facebook and Twitter.
###