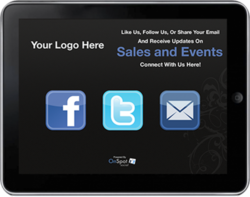 OnSpot Affiliates is free to sign up for and requires no ongoing commitment from participants.
Philadelphia, Pennsylvania (PRWEB) May 08, 2013
Today OnSpot Social is proud to announce the launch of their Affiliate Marketing program. OnSpot Affiliates™ is structured to allow companies, as well as, individual entrepreneurs to generate sales of OnSpot Social by driving prospective customers to the OnSpotSocial.com website where they can purchase either a 6-month or 1-year subscription to the OnSpot Social iPad application.
The Affiliate program is free to sign up for and requires no ongoing commitment from participants. When a customer purchases one or more subscriptions the Affiliate who referred that individual either via a unique URL or promotional code, will earn 20% of the total sale. With OnSpot Social being subscription-based software, OnSpot Affiliates™ have the unique opportunity to generate additional revenue whenever that customer either renews their subscription OR purchases a subscription for an additional device. It doesn't take referring all that many quality customers for an affiliate to earn a sizeable income.
After much research and team discussions about Sales strategy OnSpot Social decided to launch an affiliate marketing program for a number of reasons, with the biggest reason being the sheer size of the affiliate market related to the product. The OnSpot Social iPad application is being used by many different types of businesses, from sports teams and sports apparel companies, to colleges & universities, restaurants & retail stores, to dentist & doctors' offices. The app is also used extensively at trade shows and events. With such a large potential user base, the number of potential affiliates who cater to those industries either as marketing agencies, media outlets, bloggers, consultants, etc. is huge. In this economy, with so many people looking for additional ways to generate income, OnSpot Social wanted to find a way to let everyone who has a connection to any of these industries to have the opportunity to earn extra income.
"The conventional sales process has evolved. Technology is creating new opportunities. For us, instead of hiring a traditional sales force, we have decided to embrace technology and create OnSpot Affiliates™, which allows anyone around the world to be a part of our organization." – Andrew Chupalio, Managing Partner, OnSpot Social
The OnSpot Affiliates™ program is now live and ready for affiliates to sign-up. Becoming an OnSpot Affiliate is free and the sign-up process is very simple. Get started by visiting http://www.onspotsocial.com/onspot-affiliates/.
About OnSpot Social
The In-Store iPad Revolution has begun and OnSpot Social is here to help businesses take advantage of it. Based in the suburbs of Philadelphia, OnSpot Social's mission is to create interactive iPad applications that can be used in stores or at trade shows by businesses in order to engage consumers with digital content. The OnSpot Social iPad application allows businesses to expand their social media community and email subscriber list by collecting Facebook Likes, Twitter Followers, and Email Addresses through the iPad from any physical location.
Contact
info(at)onspotsocial(dot)com