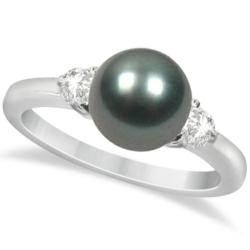 There is no wrong way to wear pearls, and they are perfectly right for just about any look."
New York, NY (PRWEB) May 08, 2013
Fashion week 2013 showed a number of pearl accessories glimmering on the runway, including chunky pearl necklaces and long pearl earrings. The signature Jackie O style of simple knotted pearls and pearl strands is taking on a more modern look. According to eonline.com, celebrities like Taylor Swift and Carmen Electra are getting into the act, wearing pearls with the most laidback weekday looks or perfect show-stopping pearl looks for red carpet evenings.
Pearls have been a part of Chinese medicine for thousands of years, and are said to promote marital bliss when worn on the wedding day. They have a long and interesting history. Pearls have long stood for purity and wealth; and legend has it that Cleopatra proved her love to Marc Anthony by drinking a glass of wine with a dissolved pearl in it.
Pearls have always been a symbol of a woman's grace, wealth and sophistication. Grandmas and aunts have been giving heirloom pearl strands to girls when they come of age. And twenty somethings are jumping on the pearl bandwagon donning pearl pendants and diamond and pearl rings in varying sizes and colors.
An Allurez spokesperson said of these gifts of the sea, "Pearls are considered one of the top jewelry trends for spring. We've added an entirely new line of both classic and fashion forward pearl looks to keep customers in the fashion 'know'. Pearl fashion rings are hotter than ever, especially when they are side stone accented with diamonds and gemstones. There is no wrong way to wear pearls, and they are perfectly right for just about any look."
According to The Pearl Source, Akoya pearls have become the number one variety of pearls sold worldwide. Often regarded as the "perfect" pearls for jewelry, Akoya pearls are also well loved for their colors with overtones of silver or rose.
The Allurez spokesperson continued, "We look for Akoya pearls that have brilliant luster and rich color. Our customers are requesting Akoya pearls of different shapes and colors. Diamond and gemstone accented Akoya pearl earrings, rings and necklace pendants continue to be enduring favorites as birthstone gifts for the month of June. In addition, pearls of all kinds are being chosen as elegant wedding accessories, anniversary gifts and special occasion presents."
Allurez is an established designer and retailer offering jewelry education and unique products that reflect both classic and current jewelry trends. From Akoya pearls and Freshwater varieties to Tahitian, Mabe and South Sea pearls, Allurez is known for its quality jewelry products. In addition, Allurez is a favorite site for designing your own engagement ring as well as other fine diamond and gemstone jewelry. Allurez is headquartered in New York where they have multiple offices. You can visit them online at http://www.allurez.com
Sources include:
http://www.allurez.com
articlealley.com