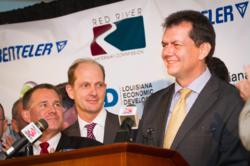 We firmly believe that northwestern Louisiana is the perfect place to step up our activities in the U.S. market.
Shreveport, LA (PRWEB) May 09, 2013
Site Selection magazine honors Benteler Steel/Tube for its historic investment in North Louisiana in its May 2013 issue. The leading economic development and corporate real estate journal named Benteler's $900 million investment a "Top North American Deal of 2012." According to Site Selection, Benteler's investment ranked as the second largest in the United States during 2012.
The German-based steel manufacturer will build a hot rolling, steel tube mill at The Port of Caddo-Bossier. The two-phase facility will include both a seamless steel tube mill during phase one and a steel mill during phase two.
"We firmly believe that northwestern Louisiana is the perfect place in North Louisiana to step up our activities in the U.S. market for Oil Country Tubular Goods (OCTG) and to expand our presence in the U.S.," said Matthias Jaeger, president and CEO Benteler steel/Tube GmbH.
"With the growing demand for high-quality steel tubes for exploratory drilling in the U.S., and Louisiana's proximity and access to energy customers, Benteler Steel/Tube's Louisiana plant is poised to play an important role in meeting U.S. domestic energy needs. Decisive factors were, among others, the excellent conditions for logistics, infrastructure and the availability of a strong and talented workforce in Shreveport-Bossier. We would like to thank the State of Louisiana and all those who helped to make this project possible for their great cooperation and commitment. We are looking forward to a long-lasting and fruitful partnership," said Jaeger.
Site Selection's recognition of Benteler's historic deal is the second honor in as many months for the German steel manufacturer. In March, Trade and Industry Development magazine gave Benteler Steel/Tube the 2012 Corporate Investment & Community Impact (CiCi) Award in the investment category.
"Congratulations to Benteler Steel/Tube for the continued national recognition of this truly historic and innovative deal. Benteler's $900 million investment was the second largest investment in the U.S. during 2012, according to Site Selection's database. This deal would not have been possible without teamwork! This win is an example of what can happen if we all work together," said Scott Martinez, President, North Louisiana Economic Partnership.
The recruitment of this multi-national corporation to North Louisiana took a collaborative effort by many state, regional, and local partners. Louisiana Economic Development, The Port of Caddo-Bossier, Red River Waterway Commission, City of Shreveport, City of Bossier City, Caddo Parish Commission, Bossier Parish Police Jury, Greater Bossier Economic Development Foundation, Bossier Parish Community College, and North Louisiana Economic Partnership worked as a team to provide Benteler with the information, the site selection services, the workforce training, and the state and local incentives needed to bring the project to this region.
Site Selection's Top Deals of 2012 were determined by level of capital investment, degree of high-value jobs, creativity in negotiations and incentives, regional economic impact, competition for the project and speed to market.
When at full capacity, the Benteler mill will create 675 new direct jobs paying an average annual salary of $50,000, plus benefits. The project will also generate 1,000 construction jobs. An economic-impact analysis by Louisiana State University in Baton Rouge, Louisiana, indicates approximately 1,540 new indirect jobs will be created, resulting in a total of more than 2,200 new, permanent jobs.
Additionally, during the term of Benteler's contract with the state's lead economic development agency, Louisiana Economic Development, the project could result in total new earnings of $2.7 billion (approximately $150 million per year at full employment) in North Louisiana and a total, cumulative economic impact of $16.2 billion in the region.
"The list of top U.S. deals from 2012 had a decidedly Southern flavor," says Adam Bruns, Site Selection Managing Editor, "and the top international deals trended toward the southern hemisphere. But whatever direction on the map they hailed from, teamwork and a global outlook were their hallmarks."
ABOUT BENTELER STEEL/TUBE
Benteler Steel/Tube is a business unit of the global Benteler Group, which is headquartered in Salzburg, Austria. Founded in 1879, the company is proud of its more than 135-year history of success. The Benteler Group employs a total workforce of 30,000 employees at 170 locations in 38 countries. The successful business unit Benteler Steel/Tube, headquartered in Paderborn, Germany, specializes in manufacturing and processing of seamless hot-rolled steel tubes and seamless cold-drawn precision steel tubes. There are four Benteler Steel/Tube sales offices located in North America, including headquarters in Houston, Texas.
Further information about the company can be found at http://www.benteler.com. Visit http://www.bentelerjobsinlouisiana.com for employment opportunities.
ABOUT NORTH LOUISIANA ECONOMIC PARTNERSHIP
The North Louisiana Economic Partnership (NLEP) is a public-private partnership dedicated to the positive and sustainable economic development of the 14 parishes it serves in North Louisiana. The NLEP and its many partners work with both existing and prospective companies to facilitate the attraction and retention of capital investment and meaningful job opportunities in our region.