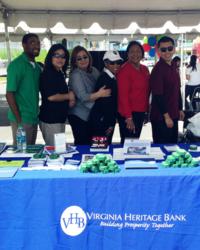 Tysons Corner, VA (PRWEB) May 09, 2013
Virginia Heritage Bank, along with their Mortgage division, had two tables at the event and enjoyed talking with people from around the community about products and services. Fun VHB giveaways included backscratchers, a crowd favorite.
Dulles Regional Chamber of Commerce's Chantilly Day - http://www.chantillyday.com/ creates a sense of community and promotes living with purpose, respect and awareness. This event encourages a healthier and wealthier community economically, physically, intellectually and spiritually. Chantilly Day promotes hands-on participation of members of the community, businesses and organizations. It facilitates the continuous building and maintenance of the community well-being and pays homage to Chantilly's heritage. Events included: re-enactments of historical events; showcasing of local businesses, civic, art and scientific organizations; and recognition of those with the highest growth and contribution to the local economy.
Virginia Heritage Bank, headquartered in Tysons Corner, with total assets of $804 million, serves Northern Virginia and surrounding communities with branches in Chantilly, Dulles Town Center, Fairfax, Gainesville, and Tysons Corner. VHB is a full service bank providing an array of retail and commercial financial services.
David P. Summers
703-277-2200
http://www.vhbank.com
http://www.vhbmortgage.com
OTCBB: VGBK
Member FDIC
VHB is an equal housing lender.