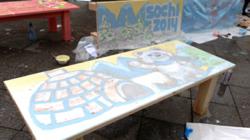 That is probably one of the main ideas of the project - to highlight what brings us all together, despite our physical, emotional and ideological differences.
(PRWEB) May 07, 2013
As a part of the all-Russian "Bench of Peace" art project, in which well-known cultural and artistic figures paint street benches, the Sochi 2014 Cultural Olympiad presented five benches decorated in the motif of the Sochi 2014 Winter Games. In addition to the Sochi 2014 Winter Games symbols, the benches featured the well-known Mascots of the Sochi 2014 Winter Olympic and Paralympic Games. Alexander Alyabyev, the youngest hopeful of Paralympic Alpine Skiing, selected as "Our Sochi 2014 Champion", a special project promoting the Russian Paralympic Team, participated in the painting of the benches.
The "Bench of Peace" project began on May 4 with the support of the Moscow Department of Culture. Once the project is complete, 300 artwork benches covered half a kilometer of the Kuznetsky Most pedestrian street in the center of Moscow. 50 of the most artistic benches will be sent to Sochi to be admired by visitors and participants of the 2014 Olympic Winter Games.
Professional artists and representatives of art and charity organizations took part in painting the benches. Participating artists included: Andrei Bartenev, the Artplay Center of Design, the "Vinzavod" Center of Modern Art, Igor Beroev and Ksenia Alferova's charity foundation "I exist!", and Konstantin Khabenski's charity foundation.
On May 5, the half-a-kilometer bench became a "Table of Peace" on Kuznetsky Most pedestrian street, where a number of creative master classes were offered to the public, including: ceramics, pottery, sewing, sculpture, decorative patterns, Easter egg painting and doll making. Throughout the day, popular Moscow restaurants invited everyone to enjoy a festive meal. Events wrapped up in the evening with several concerts.
Following the celebrations, a number of benches will remain in Moscow and will decorate the pedestrian streets of the capital until the end of the summer, whilst others, including the Olympic benches, will be safeguarded before being sent to Sochi where they will be showcased along with "Benches of Peace" from other regions of Russia, during the Sochi 2014 Olympic Winter Games.
Alexander Alyabyev, "Our Sochi 2014 Champion" and member of the Russian Paralympic Alpine Skiing Team:
"I am really happy to be taking part in such a big artistic project as the "Bench of Peace". What is great is that regardless of the variety of themes and paintings on the benches, there will be a harmonized look to it all. That is probably one of the main ideas of the project - to highlight what brings us all together, despite our physical, emotional and ideological differences. My drawing will no doubt be of a Paralympic sport, seeing that in less than a year one of the most important sporting events will begin - the 2014 Paralympic Games in Sochi!"