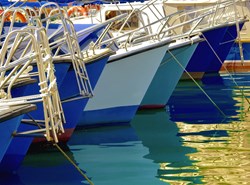 Choosing Debt Free Communities.
Bluffton, SC (PRWEB) May 07, 2013
During its research trip last month, Real Estate Scorecard discovered through public records a Chapter 11 bankruptcy filing regarding Hampton Lake, a Bluffton South Carolina lake community Real Estate Scorecard has been monitoring for many years. Real Estate Scorecard makes continuous on site visits of master planned communities in an effort to keep buyers informed about the best places to live. Real Estate Scorecard wonders if this filing is a result of fiscal mismanagement or is it because of mixed indicators in the housing market? Real Estate Scorecard sees some real estate developments with a record breaking number of homes under construction while other communities are still struggling to make sales.
In Real Estate Scorecard's opinion, the higher end home markets (those over $500k) and the lower end home markets (those under $200k) are fairing the best this year. By Real Estate Scorecard's calculations, the average home price at Hampton Lake is in the low $300k's and is the most competitive part of the market. Real Estate Scorecard believes high monthly fees in resort-style communities may be scaring buyers away. Although Hampton Lake's HOA fees are approximately $250 a month, many of the Hampton Lake neighborhoods have additional fees to maintain the common areas making it more expensive to live there. To some, Hampton Lake may still be a great alternative to Bluffton golf communities who have even higher mandatory club dues.
Development of the Hampton Lake community began in 2006, just before the Great Real Estate Recession. This 900 acre coastal South Carolina lake community's infrastructure is complete and approximately 200 homes have been built of the 1,000 planned. Real Estate Scorecard has stayed on property and had the chance to enjoy boating on the lakes, the fitness center, resort-style swimming pool and restaurant at this Bluffton real estate development. In 2009, the National Home Builders Association honored Hampton Lake as Best Community in America with their coveted BALA award.
Real Estate Scorecard suspects this Chapter 11 bankruptcy filing may hurt future sales as skeptical buyers have plenty of alternative home choices. Real Estate Scorecard has seen many high quality real estate developments fall into court appointed receivership for whatever reason and come out smelling like a rose, from a property owner's point of view. Real Estate Scorecard doesn't expect this Chapter 11 bankruptcy filing to be the demise of the Hampton Lake community. Chapter 11 bankruptcy offers federal protection of assets. This restructure of debt does create a golden opportunity for hedge funds and private investment groups who have already been scoffing up trophy properties all across the southeast. Real Estate Scorecard hopes this is the last industry leader to take the fall, a coastal South Carolina community commenced during the Great Real Estate Recession.
If you're searching for Bluffton real estate, Real Estate Scorecard suggests until the dust settles down, seek legal and real estate counsel from experts in the area. Consider debt free communities like Colleton River Plantation, Belfair, Berkeley Hall or Hilton Head Lakes which is most similar to Hampton Lake. Last week, debt free Hilton Head Lakes celebrated the grand opening of its newest amenity, a 14,000 square foot Lake Club and zero-entry lakeside swimming pool. This debt free gated community already has an 18 hole championship golf course designed by Tom Fazio.
About Real Estate Scorecard:
Real Estate Scorecard writes unbiased real estate reviews providing in-depth information about popular master-planned communities in Florida, Georgia, North Carolina, South Carolina and Tennessee, all in an effort to help people discover where to retire in the Southeast. Website address: http://realestatescorecard.com.