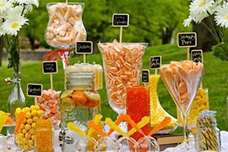 "Candy Buffets in 2013 are hotter then cupcakes in 2008!" - Markwood Fields - Candy Buffet Coordinator
Nashville, TN (PRWEB) May 10, 2013
Candy Galaxy is proud to announce the release of its latest candy by color line. This incredible release includes Georgia Gems and pastel-colored Jordan Almonds just in time for the summer wedding season. The vibrant color selection of these candies is especially popular among brides and wedding planners who want to add a vivacious selection of color to their receptions with an elegant candy buffet. While these candies will be extremely popular for weddings, Candy Galaxy expects them to move quickly for all events throughout the summer.
Georgia Gems are a luxury confectionary hailing from the peach state. These candy-coated chocolate gems are available in a rainbow of colors. "Think of them as M&M's without the logo," says Candy Galaxy vice-president and marketing director Jonathan Murrell. Because of their simple, lustrous coating, Georgia Gems are more flexible decorations for candy buffets and event decorations than their logo-laden cousin. Demand for Georgia Gems has been strong since the initial release and is expected to increase throughout the summer months.
Aside from Georgia Gems, Candy Galaxy has expanded its ever-popular line of Jordan Almonds. These classic candy treats are now available in pastel colors such as lavender, light green, and silver essence. Jordan Almonds have long been a luxury treat for high-end events such as weddings, business receptions, summer parties, and much more.
The recent release of Georgia Gems and Jordan Almonds marks Candy Galaxy's dominance in online candy retail. The Nashville-based company ships to all 50 states and boasts the most unique candy selection available. While these new releases have beefed up Candy Galaxy's selection of colored candy, they're still known for other specialties including the World's Largest Gummy Bear and Godiva Milk Chocolate Assortments.
Whether you're looking for color-coordinated gourmet candies such as Georgia Gems and Jordan Almonds to decorate your next event or for a simple treat to enjoy, Candy Galaxy is your one-stop shop for all your candy needs!