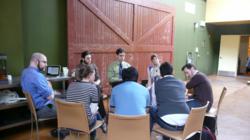 The process of brainstorming with others is invaluable
Evanston, IL. (PRWEB) May 19, 2013
Veteran chef / entrepreneur Lisa Gershensen recently led a group of food entrepreneurs in Now We're Cookin's commercial kitchen space through roadmap to efficient, cost-effective food production. The group ranged from culinary students to brand new business owners, an established businesses looking to take profits to the next level. Who knew pillowcases could be an effective tool in the kitchen? Chef Lisa provided tips, tools and knowledge designed to enhance knowledge, business flow and thus profits to the diverse group. (The pillowcases - a great tool for drying large quantities of salad greens!)
The next seminar on Risk Management is scheduled for June 4 at 6:00 pm. Click here to sign up. Legal and Insurance experts will talk about the range of risks business owners may run into and the legal/insurance options for helping to address them. Specific questions such as which legal entity is most appropriate for a business, what product liability is and how to manage the associated risks, how to deal with independent contractors or interns, and what trademark and confidentiality issues may apply to businesses will all be included in the discussion.
About Now We're Cookin':
Now We're Cookin' is a culinary center promoting culinary entrepreneurship and innovative culinary events. Its commercial kitchens are home to small culinary enterprises and host to the new Food Business Incubator program which is structured to accelerate the progress of food business start-ups. In the exciting demonstration kitchen, Now We're Cookin's team of talented chefs conduct a wide range of cooking classes, host private parties and events as well as corporate team meetings, schedule celebrity chef demonstrations and welcome film/video production teams.