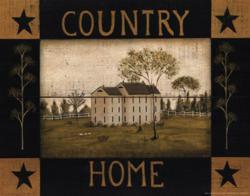 Delray Beach, FL (PRWEB) May 07, 2013
Whether decorating with a modern country or traditional country theme, BandagedEar.com has new art prints and suggestions that fit these styles. Art prints create focal points in any space that add to a room's ambiance. BandagedEar.com created a Country Living category for its shoppers to help them find the perfect art print for a country home.
Visit BandagedEar.com to discover rustic-themed art prints from well-known artists, such as Norman Rockwell, Andrew Wyeth, Lowell Herrero and T.C. Chiu. Other suggestions include inspirational quotes, bucolic landscapes and rustic still life art prints, which add a touch of coziness to any country decor.
Vladimir Safin, BandagedEar.com co-founder, said, "Our goal is to offer beautiful art prints to our customers that they are proud to hang in their homes. To customize art prints, BandagedEar.com also provides framing for every product on the website. Although there are millions of different framing options, some of our top frames for country decorating include white driftwood, teak and natural oak. All top-quality frames are made in the USA using premium materials at a fraction of the cost of local framers."
About BandagedEar
BandagedEar is an extensive online wall art gallery and community site where art lovers can shop from among thousands of carefully selected art prints and posters. In addition to high-quality art prints, BandagedEar.com offers free tools to help customers discover new art and artists. A custom frame shop allows customers to choose a high-quality custom frame, which typically costs less than local frame shops. Choose from among millions of different configurations by specifying the frame, matting, cropping and glazing. All purchases are backed by a 100% satisfaction guarantee. Please visit http://www.bandagedear.com for more information.