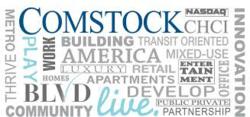 We are poised to give you the guidance you need to help you reach your project's goals.
Washington DC (PRWEB) May 11, 2013
The NEVO Group and their CEO and Founder Jack Shoptaw, proudly announce their launching of a new website, http://www.ComstockCompanies.com, for their client Comstock Companies.
Comstock Companies is comprised of two primary operating companies with diverse interests in real estate development, construction, contracting and asset management. These two companies are Comstock Partners and Comstock Holding. These companies have delivered tens of thousands of homes, and developed numerous large and small communities, as well as major public infrastructure projects.
Comstock Holding Companies, Inc. (Comstock), also formerly known as Comstock Homebuilding Companies, Inc., is a publicly traded company listed on NASDAQ under the ticker symbol: CHCI. Comstock is a diversified real estate development and asset management services company primarily focused on the Washington, DC marketplace. Comstock Homes, a wholly owned subsidiary of Comstock, develops residential and mixed-use communities as for-sale communities and as rental properties. Comstock Contracting, also a wholly owned subsidiary, provides a wide range of asset management and real estate development related services to property owners and REO managers.
Comstock Partners, LC ("Comstock") is a privately held real estate enterprise with a focus on urban, mixed-use and transit-oriented developments in the Washington, D.C. region.
Comstock and its principals have an extensive history of developing successful real estate projects throughout the Washington, D.C. region and in many other markets in the United States. Having developed tens of thousands of residential units (single family, townhomes, condominiums and apartments), office buildings, hotels, retail centers, and industrial properties, over the past several decades, the Comstock team of professionals possess the experience necessary to manage the complex tasks associated with developing high quality mixed-use, transit-oriented urban environments that provide superior, long-term value for all stakeholders.
At Comstock Companies their team combines the expertise of senior level executives from some of the nation's largest homebuilders and some of the region's most successful developers, engineers and architects to provide our clients access to a talented and diverse leadership team.
Comstock Companies is highly specialized and experienced with strategic planning and management of operational profit and loss through the building process. Additionally, each team member has a unique understanding of local markets. They are poised to give you the guidance you need to help you reach your project's goals.
To know more visit their new website at http://www.ComstockCompanies.com.
About Follow Media Consulting, Inc.
Named one of the best SEO companies by Jonas Marketing, Follow Media Consulting, Inc. is a rapidly growing worldwide firm of SEO, Social Media, and Mobile Marketing Professionals. Follow Media Consulting, Inc. headquarters is located in Richmond, VA. However, our professional team is networked across the world, with regional offices across the United States, in the United Kingdom, Canada, Australia, France, South Africa, the Philippines, and India.