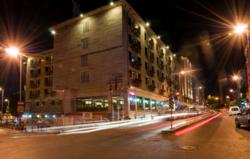 We sold a grand total of 717 rooms online in March 2013 which is a new record for us.
Istanbul, Turkey (PRWEB) May 07, 2013
Last month, Hotel Büyük Keban sold a record breaking 717 rooms online. The staggering number of online sales was officially recognized by one of the largest and most commonly used travel websites, Expedia.com. Hotel Büyük Keban was voted the top booked hotel in Istanbul based on the number of rooms sold and also came in fifth place for income level in March 2013.
"We couldn't be happier," says Hannan Uygur, proud owner of Hotel Büyük Keban. "Expedia separates Istanbul into three regions which include Europe, Asia and Old City. Last year in June we finished second place but last month we were voted the top producer which is a really difficult position to hold in such a competitive market."
The majority of tourists that visit Istanbul are in town for the sightseeing which is done in the historical part of Istanbul in the Old City. The location of the hotel is very competitive because it is right in the heart of the Old City and it is easily accessible to all of the major tourist attractions. Hotel Büyük Keban completed its renovations in 2013 which have given the rooms, especially bathrooms, a completely new modern look and feel.
"We sold a grand total of seven hundred and seventeen rooms online in March 2013 which is a new record for us," says Hannan. This year the FIFA U-20 World Cup will be held in Istanbul from June 21-July 13 so we're definitely hoping to set a new record in the upcoming months."
Hotel Büyük Keban is centrally located in the Old City district of Istanbul, Turkey near some of Istanbul's most majestic landmarks. The hotel's amenities offer four star services for three star prices. First established in 1971, they have been in business for over 40 years. The hotel was also voted the best new partner of Expedia.com and Hotels.com in 2011 and is currently featured on Expedia's list of preferred hotels.
###
For more information about this topic, or to schedule an interview with Hannan Uygur, please call +90.212.512.0020 x1004.