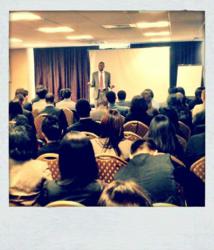 The quarterly leadership conference is a great opportunity for rising stars to listen to experienced entrepreneurs.
New York City, NY (PRWEB) May 09, 2013
The BBB Conglomerate Network attended the quarterly leadership conference which was hosted in the heart of Manhattan at the Holiday Inn New York City on 57th Street last Saturday. Invited as top speakers were successful entrepreneurs such as .... Antoine Bell, managing director of the BBB Conglomerate Network, says: "Only the best rising stars of the country were invited to last week's conference." The business environment is changing and future leaders may have to adapt quickly and go with the wave of innovation. Antoine Bell continues: "The quarterly leadership conference is a great opportunity for rising stars to listen to experienced entrepreneurs, ask them questions and network of course."
About BBB Conglomerate Network: http://www.bbbconglomeratenetwork.com
Antoine Bell clarifies: "Being a leader of the 21st century means thinking outside the box. It is important to explore things and build relationships through effective networking." Leaders should expose themselves to different leadership scenarios. Discovering how people work and exploring different types of leading is important to find out what works best (guardian.co.uk). "Our future leaders need to be excited about learning by doing and they should be up for any challenge. A leader should constantly aspire after innovation," says Antoine Bell at the BBB Conglomerate Network. "However, a great leader cannot be successful on their own. Therefore it is important to build relationships with customers, clients and business partners." Leaders should aim to find someone who can challenge them, support them, tell them the truth or give fresh perspectives and insights (guardian.co.uk).
Entrepreneur and managing director Antoine Bell, originally from France, was inspired himself by mentors who had achieved creditable success in New York City and various other American cities. After graduating in Marketing, Antoine Bell founded the BBB Conglomerate Network. The direct sales and marketing company has recorded a 6000% growth in a short span of 20 months in the middle of the recession. Such success is the result of innovative leadership. Antoine Bell says: "We are listening to customers, we know what they want and build close relationships with them on a face-to-face basis. We always aim to be different than our competitors." Antoine Bell has made an impression at last week's leadership conference at the Holiday Inn New York City. Participants were listening curiously to his presentation when he demonstrated how great leadership skills can lead to business growth even in economically difficult times. The Conglomerate Network is planning to expand into further … markets by the end of 2013.