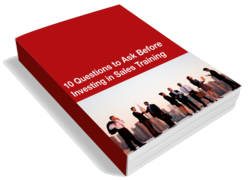 If any profession needs training, it is Sales. Consider the cost of NOT training your sales team.
New York, NY (PRWEB) May 08, 2013
Digital Media Training created the eBook, 10 Questions to Consider Before Investing in Sales Training, for those who believe training is the key to continuous company achievement, personal development, and sales success.
In this eBook, we will take a close look at the questions and considerations to have during the decision-making process of investing in sales training. This book was written for those who are looking for a higher level overview of what to consider before investing in sales training. An emphasis is placed on the importance of due diligence before conducting training and more than simply focusing on the workshop agenda or the amount of small group activities. This eBook is for those seeking both the 10,000 foot view as well as a closer look into the details to be considered in building and growing successful training programs and winning sales teams. Digital Media Training wants to help companies make the most informed decision.
Digital Media Training's CEO and subject matter expert, Steve Bookbinder, says: "There is no substitute for training, especially sales training. As long as sales goals continue to rise and the competition continues to exist, there will always be a need for new-hires to get up to speed more quickly and for legacy sellers to sharpen already existing skills. However, unlike sports' training, which is generally imposed on the athlete who is obligated to embrace their training regimen, sellers don't always accept either the notion of training or the training "dish" they were served that day."
About Digital Media Training
The Digital Media Training (DMT) team is composed of successful sellers from both the training and advertising industries. We have run successful national and global training operations. Our media experience includes pure play digital, TV (broadcast, cable, direct and "rep" firm), agency-side and client-side.
We have studied, trained, coached and managed nearly 40,000 sellers and sales managers across many industry verticals globally for more than 20 years. We have delivered more than 4,000 workshops and motivational speeches to audiences ranging from new-hires to senior sales experts. In addition, we have developed and launched successful e-learning programs for sellers in the most competitive industries. Our programs incorporate the best-practices observed currently worldwide.
DMT continues to build on that experience. Our leadership team continues to sell and practice our own training philosophy. Our product development team has created unique, industry leading m-learning solutions. DMT's complete training offering leverages the most engaging forms of live, virtual and multimedia content across all devices. We create learning environments that are ongoing, focused, supported by coaches with real time reporting and measurable ROI. We teach sellers what they need to know about sales and digital marketing in order to outperform their competition and reach ever-rising goals.