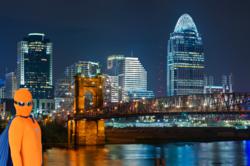 Seva Call gets the right pro for the job and gets out of the way
Cincinnati, Ohio (PRWEB) May 08, 2013
Seva Call (Save-A-Call) has launched in Cincinnati, Ohio. The free service has already been connecting consumers to local service professionals in Cleveland. and Columbus. Now, Cincinnati residents too will be able to use the free virtual concierge service that's been recognized as a Top Showcasing Start-up for seamlessly matching consumers to the right available service professional and connecting them to talk and solve everyday problems right away. On average, each U.S. resident is targeted with $512 in advertising, but rarely is that advertising ideally suited to the consumer's immediate needs.
Now, Cincy Town residents will be able to hear from an available service professional in 90 seconds by visiting http://www.sevacall.com, entering their location, availability, and description of the problem at hand. In minutes, Seva Call's algorithm filters through the city's over 11k businesses and picks the best matches based on proximity, availability, the job needed, and even quality control measures like online consumer ratings and reviews, social media interactions, call analytics, and other forms of consumer and business feedback. By using Seva Call, consumers save time and energy while finding the skilled professionals who match their schedules, service their needs, and answer their questions right away.
Seva Call connects the right small business to the right searching consumer, and without compromising personal privacy, charging membership fees, or interfering with the quality customer service that small businesses are known to provide. That's why Seva Call is the best way to get real-time quality connections to businesses in over 50 service categories like tree removal, dentists, and roofers.
"Seva Call gets the right pro for the job and gets out of the way". - Founder Aman Bakshi
Of course, not only consumers, but businesses also will benefit from using Seva Call. When Seva Call receives a request from a consumer, the request will be relayed to the appropriate businesses by email, phone call, or text message. Once the business receives that request, they will have the opportunity to accept/reject the client based on details provided, saving valuable company time. Raj Saini of Top Tech Windows raved that his first connection through Seva Call turned into an $11,000 job. Plus, businesses choose a flat rate. Seva Call does not take a percentage of any business' revenue.
In the near future, the Seva Call team will launch its iPhone and Android app so that customers can enjoy the same instant responsiveness to their service needs even when they are far from home- helping even more busy Cincinnati residents.
Seva Call raised $1.3 million in Series-A funding last fall and has launched in 33 cities across the United States including Miami, Atlanta, Birmingham, Baltimore, Philadelphia, Columbus, and Boston. Connect on Facebook, Twitter, and Youtube.