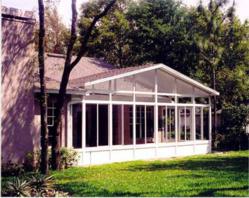 A good design matches the buyer's needs, lifestyle and neighborhood.
MIAMI, FL (PRWEB) May 08, 2013
The president of Venetian Builders, Inc., Miami, said the retail sales display his company placed in the Jupiter Home Depot is helping it demonstrate to homeowners there that it can design a Jupiter sunroom addition, patio cover or screen enclosure to fit any of the community's varying neighborhoods.
Venetian serves all Jupiter neighborhoods, including the Abocoa communities and Admirals Cove, the Bluffs, Egret Landing, the Hamptons, Jupiter Island, Jupiter Village and North Palm Beach Heights.
"We custom-design every structure we build, no matter how big or small, no matter the budget," said Chris Noe, Venetian president. "In a community where each neighborhood has a very distinct architectural appeal to the people who buy there, design capability is a key to satisfying customers."
Such attention to detail has helped boost Venetian residential sales 150 percent so far in 2013, Noe said.
The company's craftsmen can make a solarium match a home's architectural and interior styles in a number of ways, depending on a homeowner's budget, Noe said.
Venetian also understands that a solarium or outdoor screen room needs to do more than look good, Noe said.
"The Florida Building Code has extra-stringent standards for building along golf courses, lakes, ponds, canals and other high-wind areas," Noe said. "We don't just meet those standards. We surpass them."
The displays in the Jupiter store and 40 other South Florida Home Depots show shoppers 8 running feet of design and materials options available through Venetian, which also sells direct to the consumer, as it has done since its founding in 2005. Homeowners who request a no-cost at-home consultation see even more life-size materials choices, such as wall and roof panels, screening, and working windows and doors, right at the curb.
"A good design matches the buyer's needs, lifestyle and neighborhood," Noe said. "We have customers who buy Venetian Builders screen pool enclosures as much to keep out errant golf balls as to keep away bugs and other pests. And yet those homeowners want their views preserved. We can do that for them."
Venetian has experts who work with municipal permitting officials and homeowners associations to speed the process along from planning to occupancy. "We can get a homeowner in a 4 seasons room or under an attractive patio cover or pool enclosure faster than they can imagine," Noe said, "and at a considerable savings compared with traditional construction methods."
For more information, call 866-596-2427.