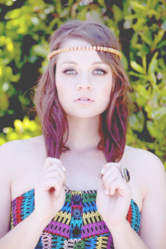 (PRWEB) May 09, 2013
AT&T* U-verse®, the fastest growing television service provider in the country**, and Music Choice, the multi-platform video and music network, have teamed up for the Let Your Colors Fly grassroots college marketing tour this spring.
Singer Stacy Clark will join them at the tour's conclusion at the University of California, San Diego on May 12th. She will perform at Sun God Lawn in front of the Mandeville Center at University of California– San Diego at 4PM for all college students taking part in the event.
Let Your Colors Fly is a national tour that kicked off on April 5th at Yale in New Haven, CT, traveling to 15 colleges across the nation. The tour gives college students the ultimate way to unwind during exam week and kick off summer break with a memorable experience. Students will treat themselves to an explosion of color, a dance party, and a chance to let loose with their friends during the most stressful time of the year – final exams!
DJ Blaze will also be on hand to host the soundtrack to the event playing today's hottest music and mixes while Music Choice showcases its linear networks MCU (Music Choice University) and SWRV. Additionally, Music Choice and AT&T will be providing awesome freebies like t-shirts, sunglasses and color packets for the celebration.
Clark's new record 'Symmetry' will be out on Harbour Records/Caroline/EMI this summer. She performed at 3 SXSW Showcases along with performances in Berlin, Germany later this spring. A Buffalo native, Stacy Clark spent her youth at open mics, writing poems, teaching herself the guitar and supporting national touring acts. In 2004, she packed up her car and headed to L.A., because she couldn't imagine being anything but a musician. Since then, her determination has grown and her hard work has paid off. In 2011, Clark's song "White Lies" was selected by iTunes as the Single of the Week, propelling her to No. 7 on the charts. Her record Connect the Dots landed at #12 on Billboards 'Heatseeker' chart and was listed by Amazon as one of the "Best Records of 2011". In 2012, Clark landed the "Best Singer/Songwriter" award at the Artists in Music Series in Los Angeles.
Let Your Colors Fly is presented by AT&T U-verse, which brings digital TV, high-speed Internet, and digital home phone service together as a fully integrated experience. AT&T offers the latest in IP technology to keep students connected to their family and friends, as well as give them the integrated entertainment features they demand.
For additional information on AT&T U-verse — or to find out if it's available in your area — visit http://www.att.com/u-verse.
For more information on the tour, log on to att.com/flyingcolors. The tour is being produced by East Aurora, NY-based advertising firm Cenergy Communications.
*AT&T products and services are provided or offered by subsidiaries and affiliates of AT&T Inc. under the AT&T brand and not by AT&T Inc.
**Claim based on comparison of major TV providers' percentage growth in subscriber counts and national market share data over the last 13 quarters combined.
About AT&T U-verse
AT&T Inc. is a premier communications holding company and one of the most honored companies in the world. Its subsidiaries and affiliates – AT&T operating companies – are the providers of AT&T services in the United States and internationally. With a powerful array of network resources that includes the nation's largest 4G network, AT&T is a leading provider of wireless, Wi-Fi, high speed Internet, voice and cloud-based services. A leader in mobile Internet, AT&T also offers the best wireless coverage worldwide of any U.S. carrier, offering the most wireless phones that work in the most countries. It also offers advanced TV services under the AT&T U-verse® and AT&T |DIRECTV brands. The company's suite of IP-based business communications services is one of the most advanced in the world.
Additional information about AT&T Inc. and the products and services provided by AT&T subsidiaries and affiliates is available at http://www.att.com/aboutus or follow our news on @ATT, on Facebook at http://www.facebook.com/att and YouTube at http://www.youtube.com/att.
Geographic and service restrictions apply to AT&T U-verse services. Call or go to http://www.att.com/u-verse to see if you qualify. Access to select content requires compatible device, qualifying U-verse TV plan and Wi-Fi connection and/or cellular data connection. Data charges may apply. Total Home DVR functionality is available on up to 8 TVs, and requires a receiver for each additional TV at $7/mo. Access to HD service requires $10/mo.
About Music Choice:
Music Choice, the multi-platform video and music network, delivers its music programming to millions of consumers nationwide through their televisions, online and mobile devices. MC programs dozens of uninterrupted music channels; produces MC Originals that feature today's hottest established and emerging artists; and offers thousands of music videos. MC is a partnership among subsidiaries of Microsoft Corporation, Motorola, Inc., Sony Corporation of America, EMI Music and several leading U.S. cable providers: Comcast Cable Communications, Cox Communications and Time Warner Cable. http://www.MusicChoice.com | Twitter: @MusicChoice | Facebook: http://www.facebook.com/MusicChoice