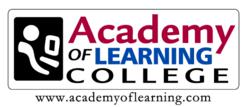 Academy of Learning College is pleased that the Canadian government is increasing financial support to those who most need training to provide a better life for themselves, and for their families.
Ottawa, Ontario (PRWEB) May 08, 2013
Last week, the Minister of Human Resources and Skills Development (HRSDC), the Honourable Diane Findley, announced that the Canadian government will be taking steps to increase access to student loans and grants. Minister Finley said, "Our government is helping Canadians get the education, skills and experience they need for jobs in high-demand fields. We are taking action so that youth have the knowledge and opportunities they need to fully transition into the labour market."
This move to make training funds more readily available, and therefore, education more accessible, was enthusiastically received by many educational and training institutions, including Academy of Learning College.
For 2013-2014, low income and middle income thresholds have been adjusted, which will allow more students to qualify for financial assistance under the new levels. This welcome change comes into effect August 1st, 2013.
Currently, our government invests over $10 billion annually to support post-secondary education by providing financial assistance through Canada Student Loans and Canada Student Grants. Canada Student Loans are available to those who wish to enrol in full-time or part-time studies, but have financial need. Currently, the federal government covers approximately 60 percent, while the province or territory covers the remaining 40 percent. Alternatively, Canada Student Grants provide up-front, non-repayable financial assistance to students from low-income and middle-income families, low-income students with dependents and students with permanent disabilities. (See CanLearn.ca.)
With 60 campuses across Canada, potential students are able to receive valuable training from Academy of Learning College in business training, healthcare training, and IT training diploma programs. Stephanie Stewart, Marketing Coordinator for Academy of Learning College, said, "Academy of Learning College is pleased that the Canadian government is increasing financial support to those who most need training to provide a better life for themselves, and for their families."
The complete announcement from HRSDC can be read at http://www.newswire.ca/en/story/1154091/harper-government-makes-post-secondary-education-more-accessible-and-affordable