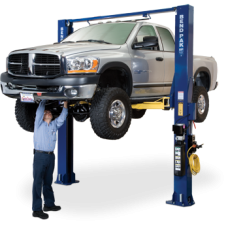 We look forward to being a one-stop shop for all of your automotive finishing needs.
(PRWEB) May 09, 2013
Regarded by many as the industry's leader in spray booth manufacturing, Col-Met Auto Direct has recently expanded its online inventory beyond spray booths to include auto lifts, tire changers, wheel balancers, frame racks, and other collision repair and body shop tools.
"We look forward to being a one-stop shop for all of your automotive finishing needs," said Steve Russell, Director of Sales for Col-Met Auto Direct. "We are looking to grow and diversify, but not at the expense of our customers... that's a promise."
While expanding, Col-Met looks to bring the same philosophy and core values that made them a top manufacturer of spray booths into the broader world of body shop supplies. These core values of honesty, integrity, quality products, and doing the right thing has kept them in business for decades. While many small businesses in their industry are closing their doors, Col-Met is looking to the next decade of business with these same values.
Owners of body shops or collision repair centers who have been searching for a trusted provider of top-grade body shop supplies can now purchase these products directly at the Col-Met website (see below). There they can find 2-post auto lifts, 4-posts car lifts, and low-rise auto lifts. They can also find a great selection of frame racks and frame rack accessories. Col-Met also features durable, rugged, high-torque tire changers and wheel balancers. But it does not end there. Col-Met has an extensive inventory of large and small body shop tools and supplies.
For more information, or to view the full line of Col-Met products, visit their website at colmetautodirect.com.