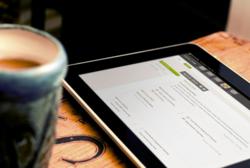 Peach will allow restaurants to enjoy the benefits of customized software without actually having to undergo an expensive and arduous customization process.
Norwalk, CT (PRWEB) May 10, 2013
WhenToManage, the leading innovator of cloud-based software for the restaurant, hospitality and retail industries, will introduce at this year's National Restaurant Association (NRA) Show new technologies designed to take its popular productivity solutions to an entirely new level. Log and Flow, the first apps in a series of user-friendly, highly accessible technologies for use on the Web or mobile device, are being made available for free. Plus, at NRA, WhenToManage will demonstrate the speed and ease at which operators can utilize its innovative new technology to create customized solutions.
LOG
Log is designed to replace restaurant managers' daily notebooks and clipboards. Not only will it allow users to store notes and checklists in one place, it will also automate management of all tasks by sending notifications to the manager or team members who have not completed an assignment. Log can be used in one location or hundreds and is searchable across them all. Notes and checklists are stored in the cloud, enabling managers to search their secure archive at any time. Complimentary usage of Log is available by clicking here.
FLOW
Flow is a private social network for restaurant teams. Within the app, users can exchange messages, post feedback to events and marketing activities, initiate and share ideas, and create and join groups. Flow enables restaurant managers to engage employees in the workplace by using social networking tools they already gravitate towards in their personal lives.
"Consumer apps that are beautifully designed, and simple and desirable to use are at the cornerstone of our personal lives, whereby until now, technology in the workplace has been something we have to rather than want to use," says Jeff Schacher, founder and CEO, WhenToManage.
WhenToManage's new technology platform, called Peach, will host a wide array of apps to be introduced on an ongoing basis, including new versions of WhenToManage's popular POS reporting, employee scheduling and inventory management apps. Current WhenToManage customers will be migrated to the new platform by early-2014 where they may utilize the software as usual, or easily access its enhanced features.
"Peach will allow restaurants to enjoy the benefits of customized software without actually having to undergo an expensive and arduous customization process," continues Schacher. "It will provide enhanced capabilities to easily utilize data in new and creative ways, allowing operators to reduce costs, increase profits and sales, improve productivity and much more."
WhenToManage is providing Peach demos at the NRA Show (Booth #6750).
##
About WhenToManage
WhenToManage is comprised of a team of professionals with years of true restaurant operations experience from the top down, and a passion for creating software that they, in turn, would be excited to use. The result is a restaurant operating system that is more accessible, easier to use, and requires less training and support. WhenToManage offers subscription-based solutions for POS intelligence, inventory management and employee scheduling, as well as customized deployments. For more information, please visit http://whentomanage.com.
WhenToManage is also the founder of Community Plates, a 501(c)3 non-profit organization committed to ending food insecurity in the United States through food rescue. Founded in 2011, Community Plates utilizes breakthrough, proprietary technology to manage food donors, receiving agencies and volunteer drivers. Community Plates' Go Rescue App, created by WhenToManage, is proud to have been named a 2013 Computerworld Honors Program Laureate. To donate, volunteer and get involved, visit http://www.communityplates.org.