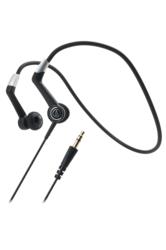 Our new SonicSport models all offer comfort, outstanding sound quality, durability and value.
STOW, Ohio (PRWEB) May 08, 2013
Audio-Technica is now shipping its SonicSport headphones, designed for jogging, sports and active use. The three SonicSport models include the back cord-style ATH-CP700 with microphone and controls for smartphones and other devices, the C-tip-design ATH-CKP500 and the ear hook style ATH-CKP200. All models have an IPX5-certified waterproof rating and are sweat-proof and washable.
"Our new SonicSport models all offer comfort, outstanding sound quality, durability and value," said Crystal Griffith, Audio-Technica Consumer Marketing Manager. "They're available in a variety of colors and styles to suit any work-out enthusiast's headphone preference. And each model has a unique feature to 'find your fit' that ensures the headphones stay in place."
The ATH-CP700 (SRP: US$99.95) features a headband that wraps around the back of the head to keep it in place and fit comfortably. Its new active-fit earphone design has a flexible pivot that provides comfortable in-ear positioning, and directs the sound toward the ear canal for maximum bass impact and clarity while allowing awareness of outside sounds. The ATH-CP700's cord-mounted remote provides the ability to control volume and music playback functions on the fly, allowing easy access to controls on iPhone™, iPad®, iPod®, smartphones and portable music players. The sensitive built-in microphone lets users answer calls or use voice-over controls on select Apple models. The ATH-CP700 has a single-sided cord and a cord clip for easier cord management and comes with a 2-foot (0.6 m) extension cord and handy carrying pouch.
Audio-Technica's ATH-CKP500 active-fit in-ear headphones feature ergonomic C-tip earpieces that nestle naturally in the outer ear to hold the headphones securely in place. Their angled housings direct the cord behind the wearer's neck so it stays out of the way. In addition to standard sound isolating eartips, the ATH-CKP500 (SRP: US$74.95) comes with newly designed ridged eartips that allow the user to hear ambient noise like traffic or other runners for safer use outdoors. The headphones are available in black, red, white and blue, and come with a cord clip and 2-foot (0.6 m) extension cord.
The ATH-CKP200 in-ear headphones have a hinged ear hook that adjusts around the ears to provide custom comfort for any wearer. It comes with both standard silicone and ridged XS/S/M and L eartips to provide a choice of greater sound isolation or allowing in a low amount of ambient sound for greater safety outdoors. The ATH-CKP200 (SRP: US$49.95) headphones come with a cord clip and 2-foot (0.6 m) extension cord and are available in black, red, white, blue and multicolor. Like the ATH-CP700 and ATH-CKP500, the ATH-CKP200 features high-quality drivers and components for clear, detailed and dynamic sound.
Audio-Technica SonicSport headphones are currently at http://www.shopaudiotechnica.com, retailers and online sellers. The ATH-CKP200 will also be available at Staples stores in May.
Celebrating over 50 years of audio excellence, Audio-Technica is renowned worldwide for a broad range of consumer and professional audio products, including high-performance headphones, microphones, wireless systems, turntables and phono cartridges. Winner of numerous industry awards, Audio-Technica designs and manufactures products that set quality, durability and price/performance standards for major concert tours, broadcast and recording studios, corporate and government facilities, theaters, house-of-worship venues, and consumer applications.
# # #
— For more information on the complete range of Audio-Technica products, contact Karen Emerson or Crystal Griffith, Audio-Technica U.S., Inc., 1221 Commerce Drive, Stow, OH 44224. Tel: (330) 686-2600; Fax: (330) 688-3752. Learn more at http://www.audio-technica.com.
— For further information regarding product availability and pricing in the United Kingdom, please contact Harvey Roberts at hroberts(at)audio-technica(dot)co(dot)uk; in Germany, please contact Anja Groth at a.groth(at)audio-technica(dot)de; in the rest of Europe, please contact Evangéline Pirot at epirot(at)audio-technica-europe(dot)com.
Apple, iPod, iPad and iPod touch are trademarks of Apple Inc., registered in the U.S. and other countries. iPhone is a trademark of Apple Inc.