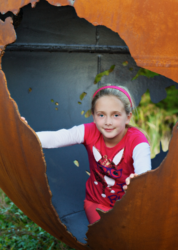 Houston, TX (PRWEB) May 15, 2013
The complete package consists of Mother Earth sculptural steel fire globe, a Crossfire Natural Gas 120K BTU burner system and a granite capped plinth.
Mother Earth is created by Rick Wittrig of Fire Pit Art. His daughter Isabella is photographed standing inside the bowl looking out of South America. The globe is made from 1/4' mild steel and the exterior is coated in a rust patina finish. It truly carries a life time warranty.
The Crossfire Burner gives a tall flickering flame. It is fully automated with an all weather electronic ignition system, an electronic timer, and a safety valve system. The controls are hidden in the granite capped plinth.
The plinth is capped with a five foot square block of granite and stands two feet tall. The base can be powder coated or supplied with a choice between five stone materials. An access panel is incorporated into the plinth base to allow for maintenance.
http://www.fabfirepits.com is a division of Donna and Keith Enterprises llc specializing in supplying custom fire pits made in USA.