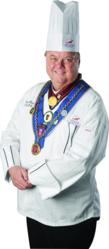 From the classic American diner to a five-star establishment, The American Academy of Culinary Arts will provide graduates the skills they need to become the great American chef.
- Chef Norm Hart
PITTSBURGH, PA (PRWEB) May 09, 2013
PTI has announced plans for The American Academy of Culinary Arts, where great chefs prep. The academic philosophy of the Pittsburgh college's new culinary school is to provide students with the fundamental knowledge, skills practice and kitchen experience to become the "great American chef." The AACA will offer hands-on classes that begin instruction July 18, 2013.
Students will study under the direction of internationally acclaimed Chef Norman Peter Hart, a member of the American Culinary Federation and the exclusive Honorable Order of the Golden Toque. In 1987, Chef Hart was appointed by the Confrerie de la Chaine des Rotisseurs des Etas Unis and, in 2003, became one of the first five recipients of the coveted medallion from the Conseil d'Honneur des Etas Unis.
In 2007, Chef Hart was named National Educator of the Year by the American Culinary Federation. He is a Certified Executive Chef, a Certified Culinary Educator and a member of the American Academy of Chefs and the recipient of countless industry awards and achievements.
According to Chef Hart, the AACA will deliver a strong foundation in culinary fundamentals, including precision knife skills, sanitation, mastery of the five mother sauces, basic cooking methods and professional development. "Once we've established our foundation, AACA students are immersed in the distinct, diverse world of American cuisine," said Chef Hart. "We will prepare students to think and act like a professional chef – then explore, innovate and experiment with fresh interpretations until graduates have mastered a revolutionary approach to American culinary arts."
Construction is underway for AACA facilities located on Pittsburgh Technical Institute's campus on McKee Road in North Fayette. The new Culinary Arts Center, which houses two teaching kitchens, hot and cold storage areas, and a dining lab, will feature the latest in culinary technology including state-of-the-industry combination and convection ovens, specialized stoves and Dura-Ware professional cookware.
"The AACA student has the distinctive advantage of PTI's long tradition of preparing career-motivated students for the American workforce; our campus housing and student life programs; and the commitment of an experienced team of Career Services professionals," said Greg DeFeo, President of Pittsburgh Technical Institute.
DeFeo notes the established success of PTI's School of Hospitality graduates, "PTI already is well known and respected within the hospitality industry for preparing travel, restaurant and hotel management degree graduates who are ready to work. The same can be expected of our culinary graduates who will be ready to enter the workforce in 2014."
AACA students will benefit from an in-field internship, a cooperative learning experience between the American Academy of Culinary Arts and the professional culinary community. A network of culinary professionals supports AACA and helps guide the development of curriculum, professional development projects, and internship sites.
In addition to Chef Panfield DiNicola of Giant Eagle Market District and Kim Rossero of Metz Culinary Management, Executive Chef Drue Vitter of Hyatt Regency Pittsburgh International Airport is among the first to support the launch of the American Academy of Culinary Arts at PTI.
"PTI has a great location, a beautiful campus and students dedicated to their careers, many of whom I've called on to support our food and beverage operations with great success," said Chef Vitter. "I am very excited about the AACA. The curriculum is well-rounded, in both theory and hands-on education."
According to Chef Hart, the AACA experience is designed to reflect the formal apprenticeship programs available during his training years. "Our training is deeply connected to the American dream," said Chef Hart. "From owning and operating the classic American diner to working as an Executive Chef for a five-star establishment, The American Academy of Culinary Arts will provide graduates the skills they need to become the great American chef."
For information about The Academy of Culinary Arts, course listing, culinary careers: http://www.pti.edu/aaca
ABOUT PITTSBURGH TECHNICAL INSTITUTE
Offering career-focused education since 1946, Pittsburgh Technical Institute is a two-year college with a 180-acre campus in North Fayette, west of Pittsburgh. PTI offers degree and certificate programs in areas such as, Business, Criminal Justice, Hospitality and Culinary Arts, Design, Healthcare, Nursing, Information Technology, Trades Technology, and Energy and Electronics Technology. PTI students can take advantage of online course offerings, on-campus residence halls, student activities, intramural programs and community service programs. PTI is accredited by the Middle States Commission on Higher Education. PTI was recognized by its employees as one of the region's Top Places to Work in a 2012 study commissioned by The Pittsburgh Post-Gazette and is designated a Military Friendly School for the third consecutive year.
For more information, call 1-800-784-9675, or visit http://www.pti.edu/aaca.