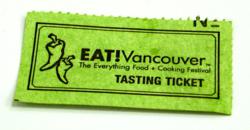 Vancouver, BC Canada (PRWEB) May 20, 2013
WHO: Hip hop artist and actor Xzibit's partner, The Bonita Spirits Company
WHAT: The Bonita Spirits Company is launching Bonita Platinum Tequila with a booth at EAT! Vancouver
WHEN: Friday, May 24th, 2PM - 9PM, Saturday May 25th, 10AM - 9PM, and Sunday May 26th, 10AM - 5PM
WHERE: EAT! Vancouver, BC Place Stadium - 777 Pacific Boulevard, Gate A, Vancouver BC
WHY: The Bonita Spirits Company is celebrating their Canadian launch by giving consumers their first taste of the product as it rolls out in Canada. EAT! Vancouver attendees will be the first in the nation to taste this award-winning spirit.
HIGHLIGHTS: Our signature cocktails will be expertly crafted by two senior mixologists, and are available for $5. Limited quantities are available, first come, first served. Prizes, including t-shirts and hats, will be provided to guests who provide video feedback.
CONTACT: Cheryl Woodhouse, Marketing Director @ The Bonita Spirits Company. 604-316-3138 or cheryl(at)bonitaspirits(dot)com for more information or to schedule interviews. Visit http://www.bonitaspirits.com for additional details.