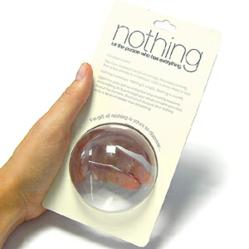 When White Elephant Gift ideas are funny and unique it brings a whole new level of amusement to the game
Boston, MA (PRWEB) May 09, 2013
The gifting experts at Shot Hot Coffee Out Of Nose have released their list of the best White Elephant gift Ideas for your holiday party. Topping this year's list is the hilarious 'Gift of Nothing'. This sarcastically packaged gift is simply a plastic bubble container filled with air and it's sure to bring a rousing round of laughter from every participant. It's also certain to be the single-most passed-around gift of the game. Coming in a close second on the list is Public Toilet Survival Kit. This well designed gift comes with a toilet seat cover, latex gloves, and antiseptic wipes. It's perfect for any germaphope.
As the tradition of the White Elephant gift exchange continues to grow, the Internet has brought a new and powerful distribution arm for dozens of small, niche-focused product companies. This has resulted in some uniquely funny White Elephant gift ideas that rely on humor and surprise as their key selling points.
"The best part of a White Elephant Gift Exchange is when no one has ever seen or heard of the gift being exchanged. When White Elephant Gift ideas are funny and unique it brings a whole new level of amusement to the game," said Chet Richfield, editor of Shcoon.com.
Top 15 White Elephant Gift Ideas:
Nothing - a brilliantly packaged gift of air - $6
Public Toilet Survival Kit - seat cover, antiseptic wipes, latex gloves $5
The Butt-Face Towel - each end is lableled, one for your butt, the other for your face $14
Fridge Patrol - a motion-activated talking cop in your fridge $20
Shwings - shoelace wings $6
Electric Powered Paper Airplane kit - a propeller and body for any paper airplane - $13
Fog Ring Blaster - shoots a ring of fog up to 14 feet - $25
Stuck Up - over 100 rectal x-rays of objects placed where they shouldn't be $10
NFL Toasters - toasts your favorite team's logo onto you bread $29
Subtle-butt - gas neutralizing pads for your underwear $13
Bacon vs. Tofu Action Figures - Mr. Bacon vs. the French champion Monsieur Tofu - $9
Booty Pop - rear-end shaping panties $15
Wind Up Sumo Tournament - a great game for office fun $12
Handerpants - gloves shaped like tigthty-whities $10
Monkey Nail Blow-dryer - a little monkey blow-dries your nails after a home-manicure $6
Shot Hot Coffee Out of Nose is the Internet's purveyor of unique, affordable and memorable gifts for all occasions. The best White Elephant gift ideas can be searched easily on the website as well as gifts for several other occasions like Father's Day, Graduation, Valentines Day and Christmas. You can check out hundreds of fun and unique gift ideas at their website http://www.shcoon.com.