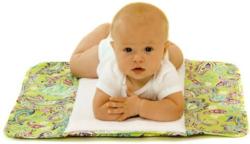 Where baby meets plush!
West Des MoInes, Iowa (PRWEB) May 08, 2013
Bliss Baby and Maternity is now carrying the Ah Goo Baby Plush Pad. When traveling, parents are looking for a clean place to change baby and do not want to worry about the surface baby is lain on.
The Ah Goo Baby Plush Pad is perfect for these types of scenarios. This pad is comfortable and has a high level of utility and quality assurance. This item is a must have for new and experienced parents.
Most diaper bags come with pads but rarely is there a pad that comes with a diaper bag that is this comfortable and thick. Most of those pads are plastic and thin and cold and not that comfortable. Not only is the plush pad cute and it comes in a variety of prints, it is so soft. It is versatile and can be rolled up and stored in the diaper bag, kept in the car, for tummy time at home or just whenever a soft and clean spot is needed to change baby. The Plush Pad cleans easily in the washing machine and can be spot cleaned and it is water repellent.
The Plush Pad is a hybrid changing station that is comfortable enough for both permanent and portable use. This is a mom-invented product and it incorporates a lush memory foam cushion that is over a half-inch thick and it provides superior comfort and support for baby. It has a roll design that is 22 x 22 inch square when open and it rolls to a 10 inch x 3 inch cylinder when closed. The Plush Pad is soft, warm, water-repellent, and machine washable. Style meets practical and baby meets plush.
To find this pad, please go to http://www.blissbabyandmaternity.com.