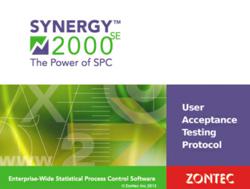 This service provides customers the materials necessary to perform their own software validation or we perform it for them," said Warren Ha, Zontec Inc.
Cincinnati, Ohio (PRWEB) May 08, 2013
Zontec Inc. the international developer of Statistical Process Control (SPC) software solutions, today announced a new Synergy SPC software validation service to its customers. "This package will be invaluable to our customers and prospects regulated by the Food and Drug Administration (FDA) 21 CFR Part 11," said Zontec President Warren Ha. "We developed this service to aid companies in the food, healthcare, pharmaceutical, medical device, and other industries to meet the required regulations." The Zontec Validation Package includes a User Acceptance Testing (UAT) Protocol template, and a UAT Report template to meet the regulatory requirements for electronic recordkeeping and electronic signatures. The key components of the UAT Protocol template consist of the requirements, specification of the system configuration and security, and test cases that demonstrate correct system operation. "This service provides customers with two options: we provide customers the materials necessary to perform their own software validation or we perform it for them," noted Ha.
Benefits of using Zontec's Software Validation Package:

eRecords are less expensive and more accessible than paper records
eSignatures are much more secure than handwritten signatures
Personnel time saved from developing validation materials
Proven SPC software materials that meet regulatory standards
Adherence to regulatory requirements causes increased productivity
Cost of compliance is low compared to recalls, penalties and fines
###
About Zontec
Since 1983, Zontec has been providing statistical process control (SPC) software to industry-leading companies across the globe. Zontec is highly respected for its continued focus on innovation and for constantly integrating new technologies that help businesses address quality issues, strive for long-term continuous improvement, and maximize profitability. Zontec is unique in the industry by offering a full suite of products to meet the needs of companies of all sizes. Committed to an aggressive product development schedule, Zontec software is created, tested, documented and totally supported within the company without outsourcing.This gives Zontec complete control over product development of our products. If a service agreement customer decides to upgrade to the next level of the Zontec product suite they can do so at minimal cost through our 100% Investment Retention program. They will be able to access all their previous data in the new product, minimizing production interruption. Zontec software has been adopted worldwide by more than 5,000 companies, spanning virtually every industrial category.