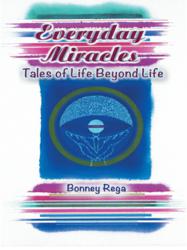 Forest Park, IL (PRWEB) May 10, 2013
As a hospice chaplain, Bonney Rega has seen people wrestle with questions that plague all societies: What happens when we die? What's the transition like? How do lost loved ones reconnect with relatives and friends?
In her new book "Everyday Miracles," Rega pulls together several short stories that she has collected from her patients, grieving loved ones and her own experiences. These uplifting tales provide a source of comfort for those dealing with loss while confronting age-old questions about death and life.
"People often ask me if it's a hard job to work with the dying," says Rega. "It's an honor to do this work; I'm a spiritual midwife who helps souls go from a sick body to a healthy one in heavenly realms."
Rega's book has a universal appeal and is written in an easy-to-read format, divided into categories of short stories based on real people's experiences.
"Everyday Miracles: Tales of Life Beyond Life"
By Bonney Rega
Paperback: $10.95
eBook: $3.99
ISBN: 978-1-4759-7560-4
Available at http://www.amazon.com, http://www.barnesandnoble.com.
About the author
Bonney Rega serves as the Lexington Hospice Chaplain, ministering to hospice end-of-life care patients. She earned degrees from Bennington College and the University of Massachusetts. In 1987, she became an ordained minister in the Church of All, an inter-religious church that honors all religious traditions. This uniquely qualifies her to minister to hospice patients from a variety of backgrounds. As a spiritual midwife, Rega helps patients enter their next birth into the heavenly dimensions. She has also served as a meditation teacher and leader of grief groups, where some of her book's stories emerged. She additionally has studied the human psyche, stages of grief, archetypes, dream symbolism and metaphysics in art and literature.
# # #