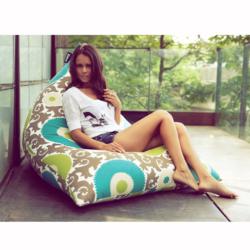 Camas, WA (PRWEB) May 09, 2013
The Soothing Company announced that it will be adding the Twist Indoor/Outdoor Chair by Jaxx Beanbags, to its line of summer outdoor furniture. This contemporary version of the beanbag is covered in a bright, woven polyester fabric that is UV protected to resist fading. Its light weight ensures easy portability. The company reports that all Jaxx products are proudly Made In The USA.
In 2006, the folks at Jaxx had an idea.....they wanted to create furniture and accessories that can not only help shape a personal environment, but also the environment as a whole. A Jaxx spokesperson explains: "We set out to design products that can become meaningful to how people lead their lives through combining beautiful forms with flawless functionality. Plus, we wanted to create products that had a positive impact on the environment".
In 2012, Jaxx proudly became a member of the Sustainable Furnishing Council, a group of furniture manufacturers helping to make the industry more sustainable. According to a Jaxx representative: "One of the defining qualities of Jaxx bean bags and furniture is our Ecofoam, which starts as unused scraps from local furniture manufacturers, and is upcycled into bean bag stuffing. At Jaxx, we feel that making designer bean bags is great, but protecting our environment is better".
The Soothing Company takes pride in taking on the Jaxx line, and looks forward to building a very rewarding business relationship. Customers find that the Jaxx Twist Chair is a fun product, and can be used anywhere around the house, indoors or outdoors. As part of this new product roll-out, The Soothing Company is offering Free Shipping.
The Soothing Company is the leader-of-the-pack when it comes to products that relax and soothe the mind and body. Their spokesperson stated that their goal is to assist folks in turning their home or office into their own peaceful sanctuary, by providing products that are soothing and fit into the environment. This will be their legacy for future management personnel to follow.
A major goal of the company was to establish a strong foothold in the Internet Outdoor Furniture Niche. An intense online marketing campaign was launched to bring more visitors to their website. The stats are in, and there has been a steady increase in web traffic month after month. This is good news to company management, and bad news for their competition. The Soothing Company is here to stay, and they have set their sites on adding new and exciting product lines in the future.
Complete information is available on their website: The Soothing Company