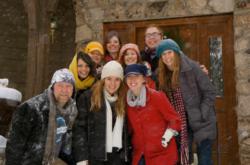 The GoAbroad Team looks forward to seeing you in St. Louis to celebrate international education!
Fort Collins (PRWEB) May 08, 2013
GoAbroad.com is thrilled to soon be heading to the NAFSA 2013 Annual Conference and Expo in St. Louis, Missouri to connect with new and old friends in international education.
GoAbroad will also be announcing the winners of the third annual GoAbroad Innovation Awards in International Education during the GoAbroad Awards Reception.
The GoAbroad team encourages fellow educators and attendees to drop by the GoAbroad booth (#1727 & #1729) throughout the week to meet with GoAbroad staff (listed below) and learn more about the exciting new things happening at GoAbroad!
Troy Peden, Founder
Nikki Powers, Partner Relations Manager
Analiza Aranas, Partner Relations Manager
Tiffany Harrison, Outreach Manager
Rachael VanDerWerff, Operations Coordinator
Kayla Patterson, GoMedia Coordinator
Vanessa Sia, Partner Relations Team Lead
Clyde Alegro, Senior Lead Designer
Joyce Tamayo, Partner Relations Team Lead
Victoria Mita, Fund My Travel Director
GoAbroad will also be participating in the following poster sessions and presentations:
1. NAFSA Tweetup - America's Center Washington Lobby West on Tuesday, May 28th from 12:30PM to 1:00 PM
2. Social Media and Search Engine Optimization (SEO): Enhancing Your Organic, Online Recruitment - America's Center Room 131 on Thursday, May 30th from 9:30AM to 10:30AM
3. Unique Uses of Technology and Social Media in IE - America's Center Room 101 on Friday, May 31st from 9:00AM to 10:30AM
4. NAFSA Tweetup 2.0 - America's Center Washington Lobby West on Friday, May 31st from 10:30AM to 11:00AM
GoAbroad looks forward to seeing fellow international education professionals in St. Louis! Safe travels!
About GoAbroad.com
GoAbroad.com has been the web's premier resource for meaningful international experiences and alternative travel opportunities for fifteen years, providing the most up-to-date and accurate information on programs available worldwide. From GoAbroad's GoMedia services, which offer a distinct range of internet marketing solutions for international educators, to the prestigious GoAbroad Innovation Awards, and the newest initiative - FundMyTravel - an online crowd funding site to help students raise money for meaningful travel experiences (http://www.fundmytravel.com), the GoAbroad team is dedicated to providing the most comprehensive resources to the field of international education.