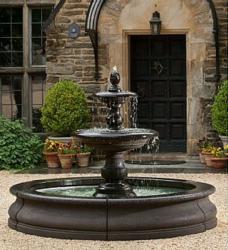 Camas, WA (PRWEB) May 08, 2013
A spokesperson for The Soothing Company announced that Campania International, Inc., has appointed them as an Authorized Retailer. Campania is a well-known, and sought-after manufacturer of quality fine garden accents, including premium water-fountains for both indoor and outdoor use. Since 1983, Campania remains at the top of the industry, most noted for their water-fountain collection.
The Soothing Company was well aware that Campania boasts an in-house professional design team. Besides their catalog line-up, they also feature custom-design work. The success of Campania is largely due to the caliber of work produced by their designers. What Campania did was look beyond classic old world traditions, and was able to distinguished itself in the marketplace by developing unique and original copyrighted designs, which demonstrate a uniquely American perspective.
Campania's reach includes the entire United States and Canada. Their extensive range of products encompass a variety of materials and styles, from classic to contemporary. Many items are made right here in the USA. The Soothing Company will not work with Vendors that do not guarantee 100% Customer Satisfaction. Campania passed the test, as they inspect every product and every shipment.
The Soothing Company became known by offering a wide range of high-quality products that help relax and soothe the body and mind. According to a company representative: "Our Mission is to help people turn their home or office into their own peaceful sanctuary. We do this by providing products that are soothing, and complement the environment."
He goes on to say: "Take our water-fountains for example. These have become more and more popular as people realize that science has proven that the sounds of trickling water are soothing and relaxing. Imagine having a waiting room where future clients are soothed and relaxed before the meeting? They also release oxygen into the air, which is good for the bio-environment of the space."
The Soothing Company has a strong web presence, and has been seeing increased web traffic on a steady basis. They have been the subject of many Home & Garden Blogs all over the Internet. Site visitor comments usually include remarks about their Free Shipping, or vast range of products. This is the time of year for folks to start thinking about Outdoor Fountains, as the custom-made units must be ordered early. The company states that they have easy to follow instructions about returning fountains to use after a long winter. Fountain covers are also available for the transition into shutting-down for the winter season. The Soothing Company has a complete Sales and Design Team to help customers choose the best units for the type of space being considered.
Complete information is available on their website: The Soothing Company or Soothing Walls