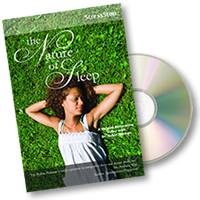 "Dr. Rubin Naiman is truly a pioneer in integrative sleep medicine."
-Dr Andrew Weil
Norwalk, Connecticut (PRWEB) May 30, 2013
StressStop.com, a company based in Norwalk, CT has released a new film entitled THE NATURE OF SLEEP. This 60-minute film, narrated by Rubin Naiman, Ph.D. teaches people how to fall asleep quickly and easily. "We produce relaxation videos that are used in hospitals nationwide, including the Cleveland Clinic and the Mayo Clinic," says Jim Porter, President of StressStop.com
"Insomnia is deservedly getting more and more attention as a potential health hazard," says Porter who is also the producer of the video. The average American gets a little over six hours of sleep a night or about two hours less than the experts are recommending. This means insomnia is reaching epidemic proportions. People are now making the connection between stress and insomnia and insomnia and stress because it cuts both ways. Lack of sleep elevates a person's levels of cortisol, a stress chemical. Elevated cortisol levels make it difficult to fall asleep. It's a vicious cycle."
"Insomnia and depression are also related," says Rubin Naiman, Ph.D. narrator of the DVD, THE NATURE OF SLEEP. "They are two sides of the same coin. You almost never have depression without insomnia or vice versa." Naiman is a sleep and dream specialist at the Integrative Medicine Clinic at The University of Arizona in Tucson, AZ. Naiman works at the center under the direction of Dr. Andrew Weil. "Dr. Rubin Naiman is truly a pioneer in integrative sleep and dream medicine," quotes Dr. Weil on the cover of The Nature of Sleep.
"Chronic lack of sleep can lead to other problems including increased susceptibility to colds and flu as well as increased likelihood of accidents and fatigue," explains Dr. Naiman. "You just can't function as well when you are constantly cutting corners on sleep."
Producer, Jim Porter is especially proud of his company's 10th relaxation video and its 30th film on stress. "We wanted this video to be our most relaxing ever so we experimented a bit with the formula. In The Nature of Sleep we used really long shots of nature. In a typical Hollywood film shots don't last more than a few seconds."
"In our video, we would sometimes hold a shot for as long as two minutes. At first I thought that was too long, but there's something really captivating about staring at these gorgeous autumn leaves, gently moving in the breeze. One perfectly beautiful October day we set the tripod under a tree that was rapidly losing its leaves even though there was hardly any wind. These leaves were just falling gently to the ground; sometimes nearly hitting the camera lens as they did. You can literally watch this shot forever. It's hypnotic," Porter explains.
"Combine these long slow shots of nature with a soothing music track, the natural sounds of birds chirping and crickets humming in the background, plus Dr. Naiman's gentle narration track and you really have a hard time trying to stay awake," Porter confirms. "While we were in the editing stage of the production and I kept falling asleep in edit room and would completely lose my place and kept having to make the editor play the segment over again. It really is THAT relaxing."
StressStop.com produces a variety of stress management training resources including films, workbooks, training kits, stress testing cards, books, biodots handout materials to hospitals, corporations and government agencies. To see a five minute sample of this video, or to listen to Dr. Naiman answer questions about stress and diet, go to http://www.stressstop.com. Or to speak to someone about this video call 800-367-1604.