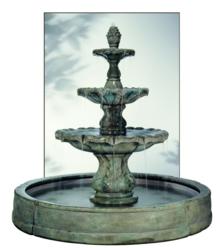 (PRWEB) May 10, 2013
At a recent press conference, Soothing Walls announced the launching of the Henri Studio Outdoor Water Fountain line. This well-known manufacturer of Outdoor Water Fountains offers exclusive designs and features not available anywhere else. Soothing Walls had been looking for an outdoor water-feature manufacturer that could combine Old World craftsmanship with modern manufacturing processes. Henri Studio fit the bill.
When Eneri Prosperi left his native village of Bagni di Lucca, in Tuscany, Italy, and came to America over seventy years ago, he had no idea that he was creating a legend. Today, Henri Studio is the world's leading name in cast stone fountains and garden decor. Their premium line includes: cast stone water-features, birdbaths, planters, and all kinds of statuary. Henri's product presentation is from classic to contemporary, and from traditional to whimsical.
Soothing Walls was proud to add Henri Studio to their line-up, because they endorse Made In America products. The craftsmanship illustrated in every Henri Studio cast stone water fountain has been described by industry insiders as "impeccable". A Soothing Walls representative said: "It is not often that such a level of craftsmanship is displayed in each and every product coming from a vendor".
Soothing Walls is a leading retailer of floor and wall fountains for the home, office and garden. The company reports that they offer a large assortment of water-features to fit any budget and decor. A glance at their product selection shows the extent of their selection, and it is easy to see that the competition has their hands full.
Since 2006, Soothing Walls has been offering the largest collection of water fountains available anywhere. They ship throughout the entire world, and their products have been featured on many House & Garden TV Shows, according to their Sales Manager. At a recent interview, Soothing Walls Sales Manager had this to say: "Water fountains come in many different forms. Most people have a standard picture in their mind about how a water-fountain looks. When they see some of our models, they are just blown-away".
He goes on to explain that Soothing Walls developed categories to fit ever water-fountain application, such as: Indoor & Outdoor Fountains, Wall Mounted Fountains, Floor Fountains, Tabletop Fountains, Logo Fountains, Water Walls, and Custom Fountains. The sounds of the water trickling down has a subconscious, soothing effect, which is well documented by research. Soothing Walls has become the "go-to" place for all things having to do with water fountains. Custom Fountains are a special source of pride to the owner, and Soothing Walls transforms ideas into award winning fountains.
Complete information is available on their website: Soothing Walls