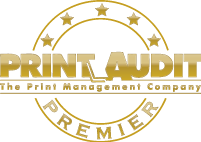 (PRWEB) May 07, 2013
Print Audit® recently announced that over 150 office equipment dealers now subscribe to its Premier subscription program. The program is expected to continue its rapid growth with the unveiling of a promotion at this week's DocuWorld 2013 conference, which will allow the next 20 dealers that sign up for Premier to receive a special bonus. Print Audit will be exhibiting in the show's Technology Pavilion and will also host a speaking session on Friday, May 10 at 1PM (CDT) entitled "Print & Device Management - How to Build Additional Recurring Revenue."
DocuWorld 2013 gathers Docuware customers, solutions experts, partners and team members to share unique insight into the latest products and solutions in the field of information management. DocuWare enables any size organization - in any industry - to transform documents into valuable capital. Regardless of format or source, DocuWare automates business processes and workflows by electronically managing and sharing documents.
Print Audit Premier is a subscription based program that allows office equipment dealers to increase their profit margins on print management solution sales by providing access to all of Print Audit's products for one low monthly fee. With Premier, subscribers receive access to a full array of print management tools that can be used to uncover more sales opportunities, truly manage printing in any environment, lower print costs and add value to the dealer's machines in field.
DocuWorld 2013 takes place on May 8 - 10, 2013 in Dallas, Texas at the Hyatt Regency. For more information on DocuWorld 2013, please visit the following website:
http://docuworld.docuware.com/americas/2013
To learn more about Print Audit Premier, please visit:
http://www.printaudit.com/premier
About Print Audit®:
Established in 1999 and headquartered in Calgary, Alberta, Print Audit is the fastest growing print management company in the world. By providing businesses with innovative and practical print tracking solutions, the company has helped customers recapture over $200 million in printing and photocopying expenses while saving an estimated 190,000 trees a year.
Print Audit is the most comprehensive provider of managed print services (MPS) and print management solutions. The company enables organizations to monitor and control their printing costs via a broad range of capabilities that include secure print release, follow-me printing, rules-based printing, cost recovery, in-depth print assessment and remote meter reading.
Print Audit has offices located in the United Kingdom, France, Germany, South Africa, Australia, Brazil, Canada and the United States. Visit http://www.printaudit.com to learn more and find the location nearest you.