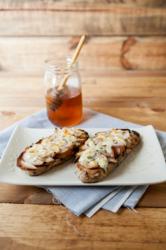 Be the star of the next dinner party.
Asheville, NC (PRWEB) May 07, 2013
The HomeSource Design Center will be offering delicious recipes through their Facebook page every Tuesday. A variety of recipes to compliment the kitchen can be accessed on the design center's business page at http://www.facebook.com/HomeSourceDesignCenter.
The first recipe on board - a compliment to any dinner or a scrumptious lunch - Roasted Pear, Gorgonzola, and Honey Toast. This recipe is by Erin Alderson and simple for anyone to prepare. Ingredients include bread, pears, red onion, olive oil, salts, gorgonzola and honey.
Each Tuesday expect a new recipe to hit your newsfeed. Get inspired, try something new, or be the star of the next dinner party with HomeSource Design Center's Savory Tuesdays.
About HomeSource Design Center
The HomeSource Design Center incorporates the entire home building and remodeling process all in one convenient location; providing you with a team of experts to guide you through the process: from products to design, and functionality to the finishing touch. Located off of Charlotte Street in Asheville, support your local one-stop shop for all your home remodeling or construction products.