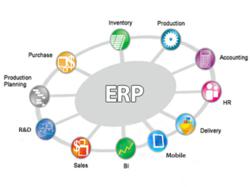 Custom ERP Software Development is critical for enterprises to adapt to growing needs and changes
Waterford, Ireland (PRWEB) May 09, 2013
Elinext Group, an international alliance of IT companies, announces that ERP software development and customization services to mid-size and small businesses becomes its strategic focus starting from 2013. For many years, Elinext has been a trusted software outsourcing partner to a large US corporation, whose custom Enterprise Resource Planning (ERP) solutions and Manufacturing Execution Systems (MES) are used by world-leading producers.
"Our tailor-made ERP software can embrace a number of modules, including HR Management, Finance and Accounting, Sales and Distribution, Supply Chain Management, Inventory Management, and Production Planning. We are now focusing on industries such as Manufacturing, Wholesale Trade, Retail Trade, Oil and Gas, Logistics and Transportation, and some others," said Alexey Shliakhouski, Elinext Group's IT Services Director.
An ERP system streamlines numerous, dispersed business processes into a single system. This can bring in significant improvements in resource planning and management, execution of tasks, productivity, customer service, decision-making, and, hence, overall profitability.
As a rule, many large corporations conduct their business using Tier I ERP systems of such vendors as SAP or Oracle. Tier II ERP solutions are in the mid-range in terms of complexity and size. Tier III ERP systems with industry-specific features and clear-cut functionality are adopted by small companies. However, even huge multinational enterprises often use ERP software from more than one supplier. That is often because a large system from a Tier I vendor can be used by headquarters and larger divisions, while smaller business units or operational divisions may be using an ERP system designed precisely for their needs.
Development and implementation of an ERP system requires a certain level of competence from a software vendor. "Accumulated expertise enables us to offer quality software solutions that can run on various platforms and incorporate advanced features. At the moment we are highly interested in narrow market niches. Accordingly, our software can be best suited to environments with 50 to 500 users," said Vladimir Antonovitch, Elinext Group's CTO.
Though traditionally ERP systems have been on-premise installations, they are now also available as Software as a Service. SaaS ERP is deployed into a cloud environment and allows customers to utilize a browser to access their business applications. Elimination of client software saves time and money on deployment and maintenance. The benefits of cloud ERP software are especially significant when a company has multiple locations and business units.
"We see here great opportunities for Elinext Group. Besides, we are engaged in creating mobile ERP that enables employees to conduct their day-to-day tasks from mobile devices anywhere and anytime," said Eugene Grinkevich, Elinext Group's IT Consulting Director. Mobile ERP solutions are mobile apps that encapsulate 'light' but useful pieces of ERP functionality accessible from tablets and smartphones. It can greatly increase the productivity of mobile staff that works away from their desk, including salespeople, field service engineers, and others.
For more information, please visit: http://www.elinext.com/custom-erp-software-development
Become our Fan on Facebook: http://www.facebook.com/elinext
Follow us on Twitter: http://twitter.com/elinext
Watch our video on YouTube: http://www.youtube.com/watch?v=Xu9aPX67hb4
Business inquiries: Eugene Grinkevich, IT Consulting Director, eugene.grinkevich(at)elinext(dot)com
About Elinext Group
Elinext Group is a global provider of custom software development and IT consulting services for a wide array of industries, including advertising, banking, e-commerce, finance, healthcare, hospitality, real estate, retail, tourism, telecommunications and others. Elinext Group's companies specialize in custom software development, mobile development, web development, TV app development, custom CRM and ERP solutions .