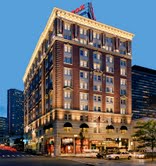 ...but when the chips were down; we simply took care of people and each other and for the most part, that is what we do day in and day out.
Long Island, NY (PRWEB) May 08, 2013
Stash Hotel Rewards® is a company that independent hotels become member/partners with to offer their guests valuable points that can be earned throughout one's stay and be redeemed at another member/partner hotel. The Inn at Great Neck and its sister property the Viana Hotel and Spa on Long Island are both member/partners of Stash Rewards as is the Lenox Hotel in Boston. Quite often people think there is a big rivalry between the two big Northeast cities; however, that may exist in the sports world, but when it comes to supporting one another during tough times, rivalries and differences are apparently put aside.
Due to the terrorist attacks on Marathon Monday in Boston and the events that followed, the Lenox Hotel was closed for eight full days, and it happened to be during the busiest week of the entire year for them, according to Scott Gridelevich, Director of Sales and Marketing of the Lenox Hotel. To a hotel, that type of loss of revenue and business can be devastating, especially when the long term effects are clearly unknown. Unbeknownst to them, Jeff Low, Founder and CEO of Stash Hotel Rewards and his team at Stash began reaching out to their hotel partners to assist with a marketing campaign initiative, which became an e-blast campaign with the title, The Lenox Hotel Is Boston Strong.
Apparently the initiative was taken by Stash because they recognize that independent hotels do not have the same type of draw or pull that typical hotel chains and flag properties have. Independent hotels often rely on their own flag waving techniques and often lack the big dollars and deep pockets that it at times takes to let guests and potential guests know they're open and ready to serve, yet independent hotels are quite often the ones that offer the best, most memorable and enjoyable hotel experiences.
When the Inn at Great Neck and the Viana Hotel and Spa; the only two Stash Reward partner hotels on Long Island learned of the initiative, they quickly put their contact lists together and sent out an e-mail blast to thousands of their contacts, which consists of past and current guests, making them aware that the Lenox Hotel was once again open for business and ready to serve their guests with exceptional service. They two hotels also utilized their social media outlets as part of the initiative to assist the Lenox Hotel.
When Gridelevich of the Lenox Hotel was asked about the results of the campaign, Girdelvich replied, "It is too early to tell if the e-blasts helped. Either way, we think it was a completely positive response, and an amazing gesture on all of your parts," referring to Stash Rewards and the hotel partners. Perhaps the most telling part of this story is when Gridelevich said, "Business has returned to a sense of normalcy on Boyston Street, and we couldn't be happier. The Lenox team and the Boston community has come out stronger and even better people, despite the horrific events on Marathon Monday. It was never evident to Dan (Daniel Donahue, General Manager) and I why we all ended up in the hospitality business, but when the chips were down; we simply took care of people and each other and for the most part, that is what we do day in and day out." It was apparently a defining moment for Scott Gridelevich and his team.
It's interesting to note that each time Americans are attacked, no matter what city or state people are from, they stick together and when things get tough, they do what is right and they do whatever it takes to help the other when they are down.
To learn more about the Lenox Hotel, please visit their website at http://www.lenoxhotel.com. For more information on Stash Hotel Rewards and their member/partner hotels, be sure to visit http://www.stashrewards.com.