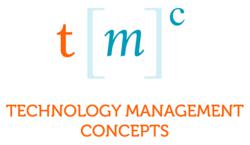 Technology Management Concepts is mainly focused on their relationships with their customers and providing them exeplary service, but we are always humbled when receiving prestigious honors like being named a Top 100 VAR
Los Angeles, CA (PRWEB) May 09, 2013
Technology Management Concepts has been named to the Bob Scott's Insights Top 100 VARs for 2013. The Top 100 are chosen from organizations specializing in the sale and implementation of Enterprise Resource Planning (ERP) and accounting software. TMC is being recognized as being a leading reseller for Microsoft Dynamics and NetSuite ERP software.
"We want to congratulate this year's class of Bob Scott's Top 100 VARs," said Bob Scott, executive editor of Bob Scott's Insights. The selection is based on annual revenue generated by each reseller. A special report that includes names of the organizations selected for this year's Top 100 list, ranked by revenue, is downloadable at http://www.bobscottsinsights.com.
Bob Scott has been informing and entertaining the mid-market financial software community via his email newsletters for 14 years. He has published this information via the Bob Scott's Insights newsletter and website since 2009.
"We are honored to be named as a Top 100 VAR from Bob Scott's Insights again this year," said President of TMC Jennifer Harris. "Bob Scott's Insights Top 100 VARs is a highly respected ERP publication. Technology Management Concepts is mainly focused on their relationships with their customers and providing them exemplary service, but we are always humbled when receiving prestigious honors like being named a Top 100 VAR."
With thousands of firms servicing this industry, it is a tremendous accomplishment for Technology Management Concepts to be selected among the top 100 VARs. Along with Bob Scott's Insights report, TMC has been annually recognized over the past decade by outside firms including Accounting Today's VAR 100, which is a leading trade publication specializing in mid-market financial software. TMC has also received numerous awards from Microsoft over the years further solidifying themselves as a reliable VAR and a model of how a Microsoft reseller should operate. TMC is apart of the 10% of Microsoft Gold Certified Partners, and they specialize in Microsoft Dynamics GP, NAV, and CRM, as well as NetSuite. They are a leading and highly sought out ERP provider that collaborates with businesses of all sizes. Located in Los Angeles, their client locations range from small to large, and local to global.
About Bob Scott
He has covered this market for 22 years through print and electronic publications, first as technology editor of Accounting Today and then as the Editor of Accounting Technology from 1997 through 2009. He has covered the traditional tax and accounting profession during the same time and has continued to address that market as executive editor of the Progressive Accountant since 2009.