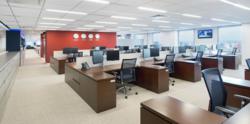 Innovant to display products from 3 of the largest US furniture contracts in the financial market within the past 12 months at NeoCon 2013.
Chicago, Illinois (PRWEB) May 08, 2013
Innovant is proud to announce its display during this year's NeoCon event in Chicago, June 10-12. Highlighted products presented this year are the 2013 upgrades and enhancements to the FORm_office product line and complimenting conference room furniture. These products were utilized in three of Innovant's recent jobs, which were among the largest US furniture contracts in the financial services sector within the past 12 months. Each of these financial services firms (located in New York and Newport Beach) had total orders in excess of 2,000 positions and provided new workstation standards for all employees.
Innovant's Chicago showroom (which opened in 2010) is located at 440 North Wells Street, Suite 310, just around the corner from the Merchandise Mart, where NeoCon is held. NeoCon is the largest design exposition in North America, featuring more than 700 showrooms and exhibitors, and nearly 100 CEU-accredited seminars for over 40,000 architecture and design professionals.
The FORm_office products on display this year are available to all new customers, with or without tailored elements.
At last year's event, Innovant won Best of Show in the benching category for FORm_office with height adjustability. In 2010 at IIDEX (NeoCon Canada), Innovant's FORm_office received the Silver Award for Innovation.
For more information about Innovant, its FORm_office line, or any other products, please visit http://www.innovant.com.
About Innovant:
Innovant is a renowned industry leader creating intelligent, adaptable furniture for the modern workplace. With a flagship showroom located in New York, Innovant maintains a worldwide network of offices and showrooms spanning North America, Europe and Asia. Innovant's substantial contributions to office and trading floor environments not only stem from its superior products, but also from the close collaboration Innovant supplies to clients and their architects and designers.