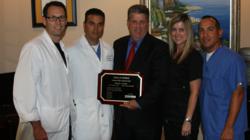 West Hills, CA (PRWEB) May 22, 2013
Advanced Pain Surgical Center (APSC), which offers a variety of treatments designed to address virtually any type or level of chronic pain, received a Leaders in Healthcare award today for their superior patient care and customer service while alleviating their patients' chronic pain.
"We are honored to receive this Leaders In Healthcare award from MediGain and it is a team effort," said Dr. Paul B. Johnson, co-founder of APSC. "We are constantly refining our techniques to focus on specific painful body parts." Dr. Vimal S. Lala, co-founder of APSC continued, "We take pride in being able to identify pain generators in the body and designing interventions to specific targeted nerves."
While the basic procedures for the relief of chronic pain have not changed in the past few years, the differentiating factors are the skills and techniques of the physicians performing the procedures. "Our patients are experiencing significant relief," said Dr. Lala. "It is a combination of the correct diagnosis and determining which patients need which procedure."
The Advanced Pain Surgical Center is an out-of-hospital, stand-alone, ambulatory surgery center. "We are doing spinal surgeries in our on-site surgery center which were traditionally performed in the hospital," said Dr. Johnson. "Our patients are happier because they do not have the expense of staying overnight in a hospital, they are in and out within the day thus going home sooner and they have less risk of infection because hospitals have a much, much higher rate of infection among their patients than ambulatory surgery centers."
"The patients of the Advanced Pain Surgical Center rave about the level of care they receive from the entire staff," said Kelly Webb, GM and VP of MediGain's ASC Billing Division. "When you have patients sending you unsolicited comments about superior customer service, that needs to be recognized and rewarded."
"MediGain has the privilege to service a wide range of physicians in multiple specialties across the U.S, the recipients of these awards are nominated by their peers or their patients," said Greg Hackney, CEO of MediGain. "We do extensive research into the nominee regarding their use of the latest techniques, the quality of healthcare they provide their patients, and their works within their local community and around the world."
About APSC
Advanced Pain Surgical Center offers a variety of treatments designed to address virtually any type or level of chronic pain. For more information on treatment options please contact Dr. Johnson and Dr. Lala at Advanced Pain Medical Group, 7230 Medical Center Drive, Suite 500, West Hills, CA, 313 S. Moorpark Rd., Thousand Oaks, CA 91361, and 2876 N. Sycamore Dr, Suite 203, Simi Valley, Ca. 93065 http://www.advancedpainmedical.com
About MediGain
MediGain offers a variety of services for U.S. physicians including revenue cycle analytics and automation software, consulting and full-service billing and reimbursements. MediGain provides solutions for physician groups, provider networks, ambulatory surgery centers and hospitals enabling them to reach their maximum potential through improved operational, financial and clinical outcomes. For more information visit http://www.MediGain.com.