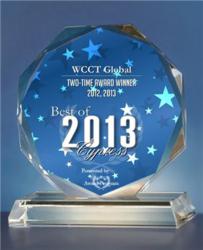 only 1.4% of all who received this award have received this for two consecutive years.
Costa Mesa, CA (PRWEB) May 08, 2013
Contract research organization WCCT Global has been awarded the 2013 Cypress Award for the second consecutive year. This has been awarded due to research work that WCCT Global has conducted over the past year and the growth within the organization. For 2013, only 1.4% of all who received this award have received this for two consecutive years. This award comes after much success in many clinical research studies. WCCT Global has focused on extending their service offering to be able to fulfill the request of clients they have worked with.
A recent service offering WCCT Global has expanded is in clinical trial recruitment. Over the past year, recruitment has been a strong focus due to the importance of having to find the correct participants for every clinical trial. That is why WCCT Global has rolled out the RMT or recruitment management tool. This recruitment process allows WCCT Global to use a series of technologies and marketing strategies to focus advertisements on particular population group depending on the study. This process also allows WCCT Global to run multi- site recruitment efforts and manage all leads for the sponsor involved. WCCT Global has been able to use this for many studies including difficult Asian bridging studies. The RMT is setting the industry standard for clinical trial recruitment.
Another area of focus is helping clinical trials that were abandoned due to site closure of different CRO sites get back up and running as quick as possible. WCCT Global is able to pull data from past research and use it to assist the design of the new study. With quickly starting a study, the right population base to reach out recruit for is a necessity. WCCT Global has been able to reach into their data base for participants who fit the study criteria and reach out to their network of physicians to find the best suited participants. WCCT Global will go for three years in a row for this award by continually adding to their service offerings.
WCCT Global is a multi-site, full service global contract research organization (CRO) of outsourced early drug development and late phase services to the pharmaceutical, biotechnology and medical device industries. The WCCT Global vision, "With compassion for people, we strive for tomorrow's therapies to be available today" truly exemplifies the focus and reason for our cutting edge work both in our clinics and throughout our operations. As a drug development partner, WCCT Global collaborates with domestic and foreign innovator companies who need regulatory, program management, data management and strategic consulting support, with an emphasis on overseeing and executing trials in special disease populations, pediatric populations, ethno-bridging, and cardiac safety. WCCT has extensive experience with healthy volunteer studies including First-in-Human (FIH), as well as specific therapeutic expertise in Allergy, Asthma, HCV, Ophthalmology, Oncology, Renal, and Vaccines.
If you would like to request information about how WCCT Global can assist your organization with a clinical study, please CLICK HERE