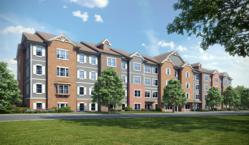 Bloomington, IN (PRWEB) May 08, 2013
This beautiful 4-story, 61 unit community is located at 444 S. Patterson Dr. Bloomington, IN 47403 within minutes of historic downtown Bloomington. The energy-efficient building and state-of-the-art amenities available at Patterson Pointe create a relaxing and maintenance-free lifestyle approach to suit the wants and needs of our residents. Many of these amenities include community rooms and lounge areas for special occasions and events, a fitness center, theatre room and emergency 24-hour maintenance services to create peace of mind.
Patterson Pointe is dedicated to creating a luxurious, comfortable and enjoyable atmosphere. Each apartment home includes fully-equipped kitchens including all major appliances, walk-in closets in all bedrooms, full-size washer and dryer connections, central air-conditioning and convenient elevator access.
Please join Miller-Valentine Group for our 'Sneak Peek' event on May 15, 2013 between 3:00 pm and 6:00 pm at the Endwright Center/Area 10 Agency on Aging located at 631 West Edgewood Drive, Ellettsville, IN 47429. Leasing Specialists will be on-site to answer any questions and provide any additional information you may need.
For more information about Patterson Pointe Apartments, other affordable, high-quality communities, or about Miller-Valentine Group, please call us at (877) 655-9925, email us at pattersonpointe(at)propemail(dot)com, or visit YourNextPlacetoLive.com.
About Miller-Valentine Group
Since our founding in 1963, Miller-Valentine Group has been dedicated to quality, value and service. Our vertically intergraded companies offer total real estate solutions in the areas of Design/Build Construction, Development, Management, and Financing for both residential and commercial markets. They also provide Renovation, Brokerage, and Leasing services for commercial markets. All of Miller-Valentine Group's divisions have combined to provide customers with more than 11,000 residential housing units and over 50 million square feet of commercial space.
Miller-Valentine Group develops real estate in the Midwest, Southeast, and Southwest regions of the country, with offices in Dayton and Cincinnati, Ohio, Columbia and Charleston, South Carolina, and Ft. Worth, Texas. As an industry leader they offer a wide range of residential products, including multi-family, single family, military housing, active adult, independent and assisted living, as well as skilled nursing communities. The company also offers a vast array of commercial products, including office, retail, lodging, healthcare, manufacturing and distribution facilities.
Miller-Valentine Group would love to connect with you!